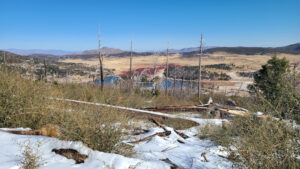 Objective: Summit Middle Peak, Cuyamaca Mountains, California
Distance: 5.6 miles (out and back)
Peak Elevation: 5,883'
Elevation Gain: 1,500'
Difficulty: Moderate
Most people prefer making a loop around Middle Peak. However, as a dirtbag peakbagger, I prefer heading straight to the summit. Loop or peak, the choice is yours.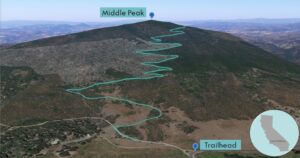 Directions to Trailhead
From the 5 S before La Jolla, merge onto the 805 S and continue for 10.7 miles. By Mission Valley, merge onto the 8 E and drive for 33.5 miles. Take exit 40 for CA-79 N. Turn left onto CA-79 N and continue 13.5 miles. Park by the trailhead on Milk Ranch Road.
Directions to Summit
Trailhead: Begin hiking on Milk Ranch Road.
0.23 miles: At the junction, turn right onto Middle Peak Loop Fire Road.
2.42 miles: At the junction, keep right to stay on the road.
2.64 miles: At the high point of the road, leave the trail. Head south and follow the ridge to the summit.
2.8 miles: You have reached the summit. Turn around and head back.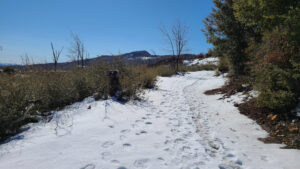 Trek Highlights
Middle Peak is surrounded by other Cuyamaca mountains: Cuyamaca, Stonewall, and North.
The trailhead on Milk Ranch Road is close to the Hual-Cu-Cuish horse staging area. The road soon connects to a fire road, which switchbacks to the top.
After the first snowfall, hundreds of people from the San Diego flock to this winter wonderland. When I hiked this trail, most of it was covered in snow. In the spots where the snow has melted, the soil becomes muddy, and it is really squishy underfoot. At the high point in the trail, you must go off-trail for the summit.
Middle Peak is #100 on my list of the Sierra Peak Hundred Peaks Section (HPS). HPS has a great list of 281 peaks in Southern California that are above 5,000'. It is an epic list and they are a great group of people to hike with.
Photos