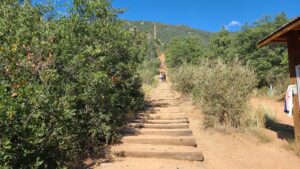 Objective: Climb Manitou Incline
Distance: 4.2 miles (stair climb, loop)
Peak Elevation: 8,590′
Elevation Gain: 1,894′
Difficulty: Strenuous
The Manitou Incline is a straight line up the slope of Mount Manitou. There are 2,768 steps to the top, in over a mile, with almost 2,000' of elevation gain. Railroad ties have been placed at grades from 43% to 68%. Most people reach the top in an hour, while fast climbers take 30 minutes and slow climbers take 90 minutes.
At the halfway point, there is a Bailout Point where you can take the trail back to the trailhead. Here, the grade does approach 68%, so you are not going crazy. There is a false summit just below the top, so save your energy for the final push. At the top, take the trail to the left for the 3-mile descent. The connector trail links to the Barr Trail, which is the grueling 14-mile route to the summit of Pikes Peak. The trail down has about 40 switchbacks to the start. At the Barr Trailhead, keep to the trail on the left to return to the start of the Incline. There is a lot going on at this nexus point in Manitou Springs. Some people are beginning their hike up Pikes Peak, and others are boarding the Cog Railway up Pikes Peak.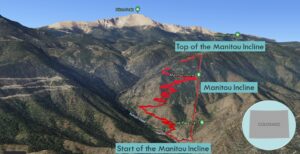 Directions to Trailhead
From Denver, follow the I-25 S to Colorado Springs. Take exit 141 for US-24 W and drive 5.5 miles. Turn left onto Serpentine Drive and continue for 0.6 miles. At the traffic circle, take the second exit onto Manitou Avenue and drive 0.4 miles. At the traffic circle, take the first exit onto Ruxton Avenue and drive 0.8 miles.
Parking is available for $10 for 4 hours at Iron Springs Chateau Parking (444 Ruxton Avenue) across from the start. Alternatively, there is parking at the Hiawatha Gardens lot (10 Old Man's Trail), connected by shuttle at $1 per hour.  From the Ruxton parking, cross Winter Street to the Incline Base Camp shop, past the toilets, to the check-in table.
Directions to Summit
Trailhead: Begin climbing the Manitou Incline.
0.6 miles: Pass the Bailout Point. You are heading to the top.
1.2 miles: You have reached to top of the Incline. Turn left at the trail heading down to the trailhead.
1.8 miles: At the junction, turn left onto the Barr Trail.
3.6 miles: At the junction, turn left to return to the trailhead.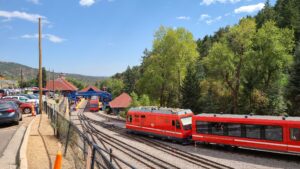 Red Tape
Make a free reservation to enter the Incline during one of three windows, which fill up days in advance:
6:00 am to 9:00 am
9:00 am to 3:30 pm
3:30 pm to 6:30 pm
https://cityofcoloradosprings.aluvii.com/store/shop/productdetails?id=1&productId=1
Photos