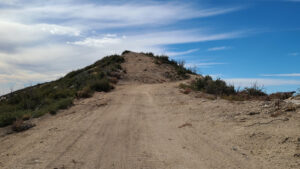 Objective: Summit Round Top, San Gabriel Mountains, California
Distance: 12 miles (out and back)
Peak Elevation: 6,316′
Elevation Gain: 2,100
Difficulty: Moderate
Round Top can be climbed along with Granite Mountain. Or it can be hiked as part of a circular ridge traverse linking Granite, Iron, and Rabbit. It is also quite a nice leg stretcher on its own.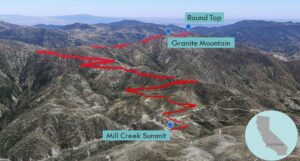 Directions to Trailhead
From the intersection of 210 and Angeles Crest Highway (CA-2), drive north 9.5 miles on Angeles Crest Highway. Turn left (north) onto Angeles Forest Highway.  Turn left (north). Drive 14.2 miles to Mill Creek Summit. Park at the picnic area on the south side of the highway. If 3N17 is unlocked, turn right (east) onto 3N17. There is a lot above the fire station.
Directions to Summit
Trailhead: Begin hiking on Pacifico Mountain Road.
3.3 miles: At the junction, turn right onto Roundtop Road (3N90).
6 miles: You have reached Round Top. Turn around and head back.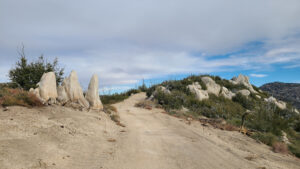 Trek Highlights
The journey starts from above the fire station and soon passes a helipad. From Pacifico Mountain Road, there is a steady climb with a few zigs and zags. Sometimes you face Antelope Valley, sometimes you flip back to Angeles Forest Highway. At around 3.3 miles, the Round Top ridgeline branches to the south. From this breezy spot, turn right onto Roundtop Road to follow the ridge.
Round Top Ridge is rather level for the most part. It dips a bit as it bypasses Granite Mountain and at the saddle between Granite and Round Top. The road keeps heading south until the very end, when it hooks northward to the summit. Round Top is a circular bump topped with tan gravel. There are views of the front range of the San Gabriels, as well as Granite and Pacifico to the north.
Red Tape
Display your adventure pass.
Photos