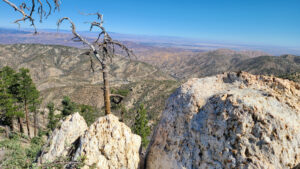 Objective: Summit Granite Mountain, San Gabriel Mountains, California
Distance: 9.5 miles (out and back)
Peak Elevation: 6,600′
Elevation Gain: 1,765′
Difficulty: Moderate
This is a straightforward hike on two consecutive roads. It does get interesting when you leave the trail and finally spot the granite mounds on the summit.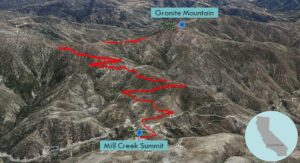 Directions to Trailhead
From the intersection of I-210 and Angeles Crest Highway (SR 2), drive north on Angeles Crest Highway 9.5 miles to Angeles Forest Highway. Turn left (north). Drive 14.2 miles to Mill Creek Summit. Park at the picnic area on the south side of the highway. If 3N17 is unlocked, turn right (east) onto 3N17. There is a lot above the fire station.
Directions to Summit
Trailhead: Begin hiking on Pacifico Mountain Road.
3.3 miles: At the junction, turn right onto Roundtop Road (3N90).
4.4 miles: Leave the trail for a ridge leading to the summit.
4.75 miles: You have reached Granite Mountain. Turn around and head back.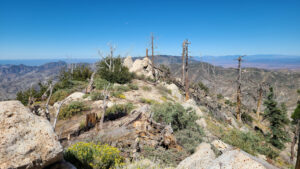 Trek Highlights
The journey starts from above the fire station and soon passes a helipad. From Pacifico Mountain Road, there is a steady climb with a few zigs and zags. Sometimes you face Antelope Valley, sometimes you flip back to Angeles Forest Highway. At around 3.3 miles, the Round Top ridgeline branches to the south. From this breezy spot, turn right onto Roundtop Road to follow the ridge to Round Top.
Granite Mountain is just to the west of the path. At a convenient spot, leave the trail and turn straight up the steep crumbly slope. (On second thought, take the faint path that gradually rises to the summit.) You may see some deer tracks and scat on the way up.
The mountainside provides decent shade and fallen logs. Once you reach the tree skeletons, there is a mound of granite rocks just a bit further. From the rocky perch, you can see Antelope Valley to the north and the green canyon surrounding Alder Creek.
Red Tape
Display your adventure pass.
Photos