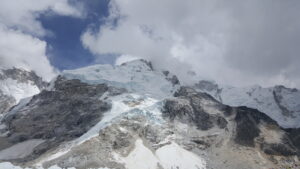 Objective: Trek to Everest Base Camp, Himalayas, Nepal
Distance: 68.1 miles/110 km (round-trip)
Peak Elevation: 18,519'/5,645 m
Elevation Gain: 10,559'/3,219 m
Trip Length: 11 days, plus 4 days of bus and domestic air travel
Terrain: Mountains, forests, glacial moraines, and Sherpa villages
Best time to visit: March to May, September to November
Caution: Altitude sickness, cold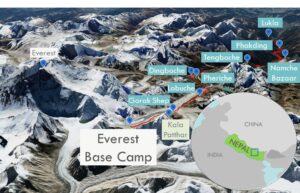 Exploring Everest (Sagarmatha in Nepali, Chomolungma in Tibetan) is the stuff of legends and the fabric of dreams. Experience the Himalayan culture of the Sherpas. Wander past mountain villages, Buddhist stupas, and the warm comfort of tea houses along your trek to Everest Base Camp.
Day 1 | Day 2 | Day 3 | Day 4 | Day 5 | Day 6 | Day 7 |
Day 8 | Day 9 | Day 10 | Day 11 | Plan Your Visit | Video Tour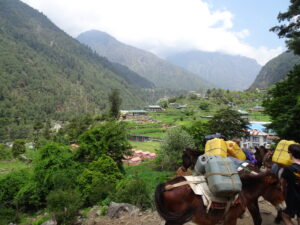 Lukla to Phakding (Day 1)
Distance: 4.4 miles/7.1 km from Lukla (9,318'/2,840 m) to Phakding (8,563'/2,610 m)
Elevation Gain: -755'/-230 m
We leave Ramechap at 3:30 a.m. on an hour-long bus ride to the airport. Then we embark on a 25-minute jaw-dropping flight in a propeller plane above the misty mountaintops. During the flight, the group is nervous about landing on the cliff's edge and is excited for the upcoming trek. The plane shoots straight for the mountainside and stops abruptly at the "most dangerous airport" in Lukla.
We start our adventure on well-paved stone trails shared with yaks and donkeys wearing walnut-shaped bells. Our guides, Amar, Jagat, and Milan, all say "Jam, Jam," which means, "Let's go." The group walks through a pine and cedar forest next to the Dudh Kosi River that flows from the Himalayas. Stone houses and shops are right on the edge of the trail, providing a glimpse into local life.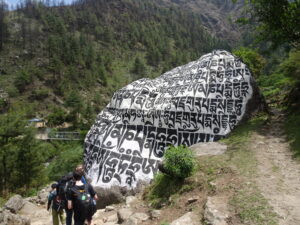 While weaving through small villages, we notice prayer wheels, stone tablets, and enormous boulders carved with Buddhist inscriptions. The colors of the flags have different elemental associations. Blue symbolizes sky, white symbolizes air, red symbolizes fire, green symbolizes water, and yellow symbolizes earth. We learn you should always pass stupas, mani stones, and other Buddhist monuments on the left in a clockwise direction.
At Phakding, we take a rainy acclimatization hike to the Pema Choling monastery. Inside the monastery, you remove your boots and step over a raised door threshold. At the end of the main hall, observe the Magic Buddha statue. The red-robed monks listen to Nepali hip hop and electronic dance music. While in deep concentration, they paint intricate murals and restore damaged areas from the 2015 earthquake.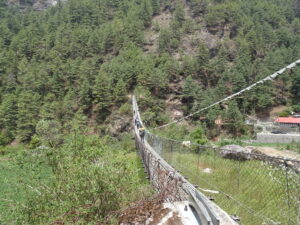 Phakding to Namche Bazaar (Day 2)
Distance: 6.3 miles/10.1 km from Phakding (8,563'/2,610 m) to Namche Bazaar (11,286'/3,440 m)
Elevation Gain: 2,723'/830 m
As you walk past streams and waterfalls, the gradual incline crosses five suspension bridges spanning the Dudh Kosi River. Namche Bazaar has a giant horseshoe configuration in a natural amphitheater.
Upon entering the Sherpa capital, there is a large stupa with a stream on the right side. The current rushes down and forces a series of prayer wheels to spin automatically. Namche has many shops (including a North Face store), restaurants, bars, and cafés. It is one of the last spots on the trail to load up on creature comforts and gear.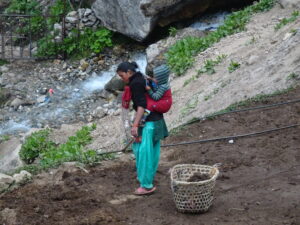 Sherpas: The Sherpa people are an ethnic group who live in the extreme mountainous areas of Nepal and the Himalayas. Their high-altitude adapted physiology has resulted in their reputations as elite mountaineers. As guides and porters, they are indispensable to successful Himalayan expeditions and played essential roles in initial explorations. Tenzing Norgay and Edmund Hillary were the first two people to summit Everest.
Porters: Our porters carry a maximum of 10 kg of gear. Other porters carry much larger supply loads. In order to support village life so high in the mountains, yaks and donkeys bear the brunt of the burden. Porters also play a significant role. Porters carry supplies from Lukla to Namche in 1.5 days with loads up to 297 lbs on their backs. The bags have cloth straps that the porters attach to the tops of their heads for balance. When they rest, they lean the burden on a specially fashioned walking stick/kickstand.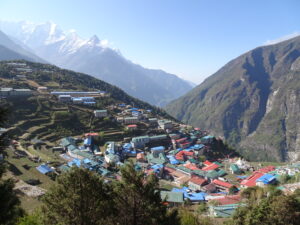 Namche Bazaar: "Acclimatization Day" (Day 3)
Today's acclimatization hike takes the team to the Everest View Point. We enjoy a lemon ginger tea while admiring scintillating views of Lhotse, Nuptse, and if the clouds are cooperating, Everest. Ama Dablam is the most majestic peak with its pyramidal form and a pendant-shaped glacial ice.
Tea houses in Nepal not only provide refreshments and nourishment during meals, but they also offer basic accommodations. The communal dining area has a yak dung powered stove in the center and cushioned bench seating along the walls. This is where we spend most of our downtime in the afternoons and early evenings, playing cards and sharing stories. During the trek to Everest Base Camp, we stop at tea houses for tea (ginger lemon, milk, masala) or coffee.
Due to the lack of refrigeration, it is a good idea to avoid meat. There are many carb-rich options, including noodles, fried rice, roti, potatoes, and even pizza.
Momos are dumplings with a filling of cabbage and carrots, and a serving of red chili sauce. Momos back in Kathmandu usually have yak meat.
Dal Bhat Power 24-Hour: Dal Bhat is a cup of dal (lentils) with curried seasonal vegetables and sautéed spinach. It also comes with pickles, a spicy tomato-based sauce, a mound of rice, and a piece of crispy papadam. The best thing about dal bhat is the unlimited refills!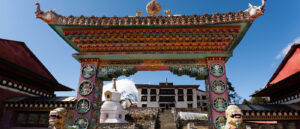 Namche Bazaar to Tengboche (Day 4)
Distance: 6 miles/9.7 km from Namche Bazaar (11,286'/3,440 m) to Tengboche (12,664'/3,860 m)
Elevation Gain: 1,378'/420 m
At first, the trail slightly rises out of Namche's bowl. We reach a tea house on the cliffside with million dollar views and seats that face directly to the peaks.
We spot a yak train loaded with hay and fuel tins heading down as donkeys are simultaneously heading up. I heed Amar's advice to hug the safe slope side of the trail and keep the animals on the edge. I lean to avoid the yaks.
The path descends deep into a ravine carved by the Dudh Kosi and climbs via switchbacks to the other side. Situated at the large clearing of Tengboche is the Tengboche Monastery. A pair of golden deer tops the gate to the monastery. After some stairs, there is a temple on top. Inside is a giant rock with the Magic Buddha's footprint and a Magic Buddha statue. The wall murals depict detailed scenes from Buddhist scripture.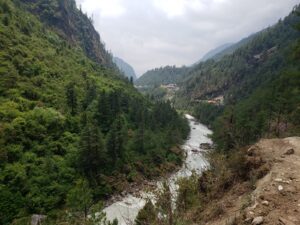 Tengboche to Dingboche (Day 5)
Distance: 6.3 miles/10.1 km from Tengboche (12,664'/3,860 m) to Dingboche (14,272'/4,350 m)
Elevation Gain: 1,608'/490 m
The start of the hike enters a tranquil and dew-filled garden of juniper trees and rhododendrons. The soil is damp, covered with moss and ponds. The trail begins a long descent through a series of stone steps and a gentle meandering slope. We climb up the other side of the valley. The powerful Imja Khola River, below and to the right, parallels the path as the trail climbs to Dingboche. The light blue-green river below has a bit of white water and froth as it collides with the rocks. The ups and downs of this path epitomize the ironic term "Nepali Flat."
We climb a steep set of stone steps. Sometimes they go straight up. Other times, they curl around little shops and farms. The trail hugs the side of the river and a glacial path. My favorite peak, Ama Dablam, has a fragile precipice that is holding back a large chunk of snow. After one last climb, we see Dingboche. A quick downhill brings us to Peaceful Lodge. In the afternoon, we take a quick stroll up the village's sole lane. There are shops, farms, snooker halls, creeks with hoses, and yak dung patties drying out on a big rock.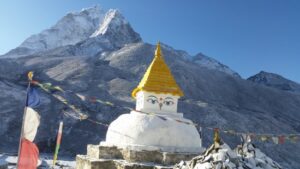 Dingboche: "Acclimatization Day" (Day 6)
Climb higher and sleep lower. We walk up a dusty path on the hillside of Nangkartshang above the town of Dingboche. Along the way are stupas and rock cairn piles. There are remarkable views of Lhotse, Island Peak, and Ama Dablam.
Dhumbal is a Nepali card game. The dealer deals seven cards to each player. The goal is to reduce the total count in the hand to 10 points or less. Joker is equal to zero. Ace is one. Two is two, etc., and face cards are worth 10. You can lower the count by discarding the following sequences: pairs, triples, and straight flushes of 3 or more cards. If no such sequences are in the hand, the player can discard any one card. After everyone has discarded the sequence cards, the player draws one card from the deck, or from the last discarded card(s).
Each player, during their turn, must discard card(s), draw a card, or declare a jhyap. This continues until a player has a count of 5 points or less, when they can declare a jhyap. If no one counter-jhyaps, that player receives zero points for that hand. All other players receive the points in their hands. If someone counter-jhyaps, add a 20-point penalty to the person who jhyapped first. That is the end of a round. Gather, shuffle, and re-deal the cards. Rounds continue, until one (or more) player's point tally is over 100. They are 'out' and do not play in the next round. The players continue until there is only one remaining player (the only player who does not reach 100).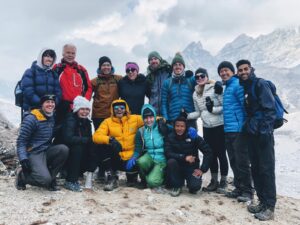 Dingboche to Lobuche (Day 7)
Distance: 4.7 miles/7.6 km from Dingboche (14,272'/4,350 m) to Lobuche (16,109'/4,910 m)
Elevation Gain: 1,837'/560 m
The level trail follows the sediment gullies of the moraine gouged out by the Khumbu Glacier through the Pheriche valley. After rising over Thokla Pass, we see memorials dedicated to the climbers who have fallen beneath the summit.
Lobuche is the last village in the trek to Everest Base Camp. Many of the homes have shiny parabolic solar water heaters that look like satellite dishes with attached pots.
In the afternoon, after reaching Lobuche, we go on an acclimatization hike to reach a ridge overlooking the Khumbu Glacier.
Above Lobuche, the guides tell us not to use single-use water bottles for environmental reasons. However, it would be a better idea to use a reliable water filtration system.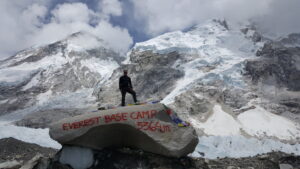 Lobuche to Gorak Shep to Everest Base Camp to Gorak Shep (Day 8)
Distance: 2.7 miles/4.4 km from Lobuche (16,109'/4,910 m) to Gorak Shep (16,995'/5,180 m)
Elevation Gain: 886'/270 m from Lobuche to Gorak Shep
Distance: 3.3 miles/5.3 km from Gorak Shep to EBC (17,598'/5,364 m)
Elevation Gain: 603'/184 m from Gorap Shep to EBC
Distance: 3.3 miles/5.3 km from EBC to Gorak Shep
Elevation Gain: -603'/184 m from EBC to Gorak Shep
While leaving the block houses of Lobuche, we cross a stream and some marshy bits. The team gradually ascends next to the Khumbu Glacier up to the remote outpost of Gorak Shep. It is on a frozen lakebed between Khumbu Glacier to the east and Changri Glacier to the west. Aa layer of dirt covers Khumbu Glacier, but there are still some pockets of seafoam green glacial ponds.
After Gorak Shep, the team traverses the level and soft lakebed. The trail climbs up so that you can observe the sharp seracs (pinnacles) of the Khumbu Glacier to the right. The path then severely descends into a boulder field and turns toward Everest Base Camp.
Explore the camp and look for Everest behind the clouds. Spot the yellow tents of the hundreds of climbers located on the Khumbu Icefall. The real base camp is further ahead because the summit seekers cannot risk getting sick through contact with us. They have been waiting months for a suitable weather window.
I pay my respects to Sagarmatha, the Sherpa guides, porters, and explorers through the ages. We turn back and return to Gorak Shep for the night.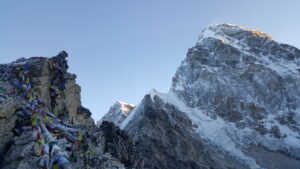 Gorak Shep to Kala Patthar to Pheriche (Day 9)
Distance: 0.8 miles/1.2 km from Gorak Shep (16,995'/5,180 m) to Kala Patthar (18,519'/5,645 m)
Elevation Gain: 1,524'/465 m from Gorap Shep to Kala Patthar
Distance: 7.3 miles/11.8 km from Kala Patthar (18,519'/5,645 m) to Pheriche (14,340'/4,340 m)
Elevation Gain: -4,179'/1,305 m from Kala Patthar to Pheriche
The alpine start at 3 a.m. offers us an opportunity to bag a Himalayan peak. We cross the frozen lakebed until we reach the trailhead. Tiny snowflakes float and wobble in front of us. With headlamps on, the way up to Kala Patthar is extremely steep and relentless. Snow and frost have lightly dusted the slick rocks. There is a scramble up the black rock boulders. The rocky summit is dark and covered with colorful prayer flags, a stark contrast with white-capped Pumori behind it. From this perch, we have a direct sightline of Everest, which is darker than the surrounding peaks. Because of the temperature, we need to descend to lower altitudes despite the approaching sunrise.
It is a long haul to Pheriche, but the terrain is smooth and mainly downhill. Pheriche is located in a super-wide and flat valley. We visit the Himalayan Rescue Association clinic and learn about the effects of high altitude.
We enter a shadowy smoky bar and it feels like the Mos Eisley Cantina from Star Wars. The locals seated on each side are a bit shocked to see foreigners. The proprietor looks in my direction and says about twenty words in Nepali. The proprietor adds yak dung to the stove as we hum the Mos Eisley Cantina song the entire night.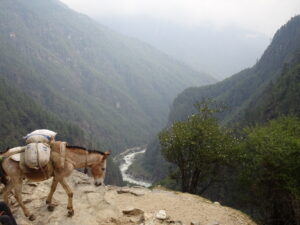 Pheriche to Namche Bazaar (Day 10)
Distance: 11.7 miles/18.8 km from Pheriche (14,340'/4,340 m) to Namche Bazaar (11,286'/3,440 m)
Elevation Gain: -3,054'/900 m
Today is the day of the Everest Marathon. The first handful of runners overtakes us and is flying down the rocky trail at a breakneck clip. Throughout the day, we encounter runners of varying speeds.
There is a steep section before Tengboche. Unexpectedly, there is another very long and steep segment after Tengboche that only levels off just before Namche Bazaar. Below tree line, the shade-bearing junipers and mountain flowers have returned.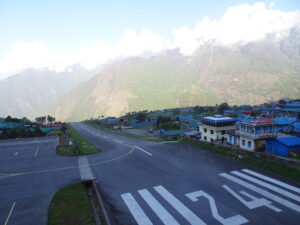 Namche Bazaar to Lukla (Day 11)
Distance: 11.3 miles/18.2 km from Namche Bazaar (11,286'/3,440 m) to Lukla (9,318'/2,840 m)
Elevation Gain: -1,968'/600 m
The morning consists of negotiating the inclines and declines of the zig zagging stone steps through villages and farms.
We barely make it to a courtyard and shut the gate as hundreds of donkeys begin passing each other. It becomes a gruesome wrestling match of savage screaming donkey flesh, as the herders hit them with sticks. Yak attack! There are still so many yak trains and donkeys that we need to wiggle around them. Unfortunately, the contaminated dirt results in a dry hacking "Khumbu" cough that lasts for weeks. (Remember to wear your buff.)
Fortunately, with all this rich oxygen circulating through my bloodstream, I find another gear and cruise into Lukla.
The adventure concludes with a flight off the mountain's edge.
Plan Your Trek to Everest Base Camp
Transportation: Catch a flight to Kathmandu, Nepal. Take a bus to Ramechap. Fly to Lukla. Trek to Everest Base Camp.
Porters and Gear: Porters can carry up to 10 kg/22 lbs. The flight to Lukla only allows up to 10 kg/22 lbs for luggage and 5 kg/11 lbs for carry-on luggage.
Lodging: A tea house is a guest house, restaurant, and place to chill.
Food: Tea houses serve traditional Nepali dishes, such as dal bhat, momos, rice, vegetables, noodles, potatoes, and soup. Some offer western food such as pizza, pasta, and French fries. Soft drinks, snacks, and beer are available along the trail.
Vendor: G Adventures
Video Tour of Trek to Everest Base Camp Trek