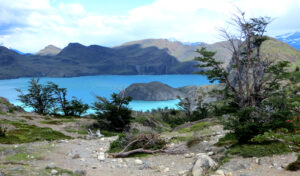 Objective: Trekking the 'W' Route in Torres del Paine, Patagonia, Chile
Distance: 56.6 miles (one-way, like the letter 'W')
Elevation Gain: 10,738′
Trip Length: 6 days
Terrain: Mountain, river, forest, glacier
Best time to visit: October to April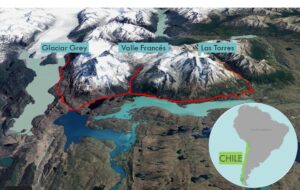 Patagonia is the rugged and sparse southern end of South America. With its colliding continental tectonic plates, barren and shattered coastlines, it's a geologist's paradise. The volcanic plateaus of the Andes mountains are surrounded by steppes, fjords, and deserts. Torres del Paine National Park in Chilean Patagonia has stunning cerulean lakes, glaciers, and the Cordillera Paine mountains. The 'W' trek traces a zigzagging route through the Paine Massif, linking Las Torres, Valle Francés, and Glaciar Grey through perfectly spaced refugios.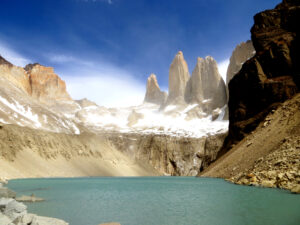 Misty Mountain Hop to the Torres (Day 1)
Distance: 12.5 miles (day hike to Las Torres and back)
Elevation Gain: 2,937′
The journey through Patagonia begins in a grassy plain with old wooden plank bridges. We wiggle through a narrow S-shaped fence that keeps out livestock and hike up a little hill covered with the red matchstick wildflowers of the firebush. We also sample tart maroon berries. The trail moderately ascends through the Rio Ascencio valley and enters a lenga beech forest. At a stream crossing, we scoop up water and drink it without treating it. It is surprisingly cold and refreshing. Where else can you find water this pristine?
The mountains on the other side of the valley have zebra stripes of snow and black rock. The trail climbs and hops over boulders. At the top of the gap, the granite needles of Las Torres del Paine (towers of the blue sky) are dramatically revealed behind a lake. We stop for a box lunch at the lakeside vista beneath the crown jewels of the Paine massif.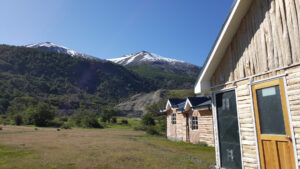 Life is good at Refugio Las Torres. Refugios are log cabins with dorm style rooms, hot showers, and common area lounges with wood stoves. As a courtesy, you leave your boots in the hallway outside the room. There is a banquet hall where local delicacies are served. There is also a bar where you can buy soft drinks, wine, Austral cerveza flavored with local Calafate berries, and snacks. It is said that if you eat a Calafate berry, you are destined to return to Patagonia. The giant windows are perfectly positioned so that we can watch the Sun set below the mountain ridges.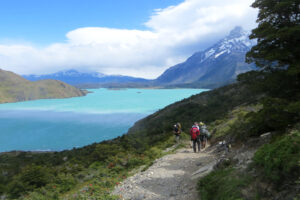 Whole Lotta Lakes (Day 2)
Distance: 9.7 miles
Elevation Gain: 1,279′
This morning, we are in the middle of shrubbery that looks like giant green cotton balls. At a stream, we see a necklace of yellow Lady's Slippers blossoms. We ramble along between the northern shore of Lago Nordenskjöld and the base of Monte Almirante Nieto. The wind whips fiercely across the lake. And with our large packs on, it is possible to sail away, so we are told to hunch low in the event of a strong gust. Occasionally, water ripples form, a refreshing spray of water kicks up, and a rainbow forms. Some of the trees here are short and hardy in order to withstand the zephyrs, and they resemble stout bonsai trees. We haul our gear to the next refugio by Los Cuernos. Thanks to the quirky geodesic dome-shaped Bucky Balls of the refugio, Domos Francés, we don't have to lug around tents or food.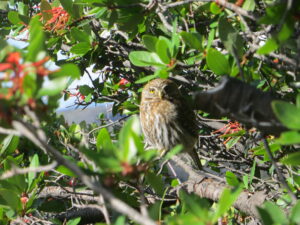 Valle del Francés (Day 3)
Distance: 13.5 miles
Elevation Gain: 2,974′
After a brief climb, we spot a tiny fist-sized owl hidden in a bush. We backpack to Campamento Italiano, where we drop off our packs. We head north up the glaciated and waterfall-cloaked Valle Francés. Los Cuernos are to the east, and Cerro Hoja and Cerro Mascara are a pair of horned peaks (cuernos), which look like vanilla ice cream bars dipped in dark chocolate (and appear golden when the sunlight hits them just so).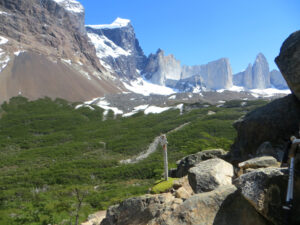 Británico forest has soft brown dirt and dead tree trunks bleached white by the sunlight. The sun rays drip through the branches in beautiful kaleidoscopic patterns. Británico cirque is a horseshoe-shaped stone amphitheater at the northern end of the valley with arêtes eroded so thin and pointy that it looks like you are standing at the bottom of a broken wine bottle. As if on cue, a couple Andean condors soar high above the mountain passes.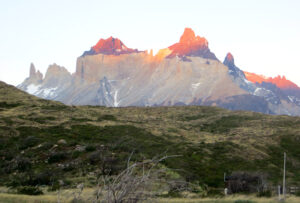 After the day hike, we retrieve our packs from the Campamento Italiano and retire for the night at Refugio Paine Grande next to Lago Pehoé, where we are treated to a special viewing of giant sprinting hares under a full moon in Patagonia.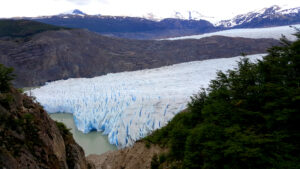 Glaciar Grey, the Bluest Grey (Day 4)
Distance: 6.4 miles
Elevation Gain: 1,049′
Today, we climb high above the eastern edge of Lago Grey and stop at Refugio Grey, by Glaciar Grey, where we stay for the next two nights. While scampering over uneven terrain and rock outcroppings, we watch two fighter jets in formation screech past us down the length of the lake. As we get closer to the glacier, the first iceberg bits can be seen floating down the narrow lake.
Glaciar Grey is at the southern edge of the Southern Patagonian Ice Field, the second largest ice field in the world. A wall of ice projects into the lake with its big blue fangs. Glaciar Grey provides quite a show with its ice calving, echoing cracking sounds, and avalanches kicking up flurries of ice and snow.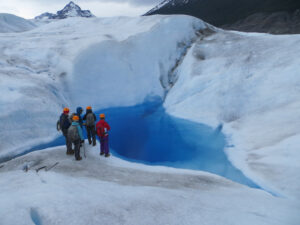 In the afternoon, a short boat ride zips us across the lake. We go up a rocky slope past glacial lakes, where we then wear helmets, attach cramp-ons to our boots, and grab ice axes. The ice hike on top of Glaciar Grey traverses diverse glacial features such as hills, slopes, fissures, crevasses, streams, rivulets, and pools. Walking on the glacier's ice field is surreal and otherworldly. The surface is similar to the crunchy shaved ice of a snow-cone. We leap over thin crevasses of unfathomable depths that form deep blue ribbons across the frosted expanse. Because the glacier is always shifting, the crevasses and streams bend into snake-like shapes. At a sapphire ice cave, while harnessed, I slowly lower myself into the chasm, stand over a stream, and admire the glowing cobalt light. After climbing back up, I take a mighty swing of the ice axe!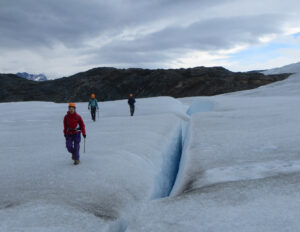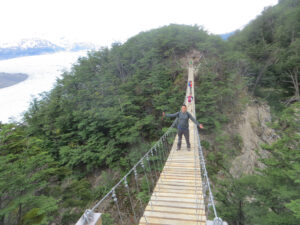 A Layover with Suspension Bridges and Kayaks (Day 5)
Distance: 3.6 miles
Elevation Gain: 730′
This morning's day hike leads to a couple of suspension bridges over the two quebradas east of Glaciar Grey. We hike through the forest and squeeze through overgrown portions. There are many clusters of orange orbs high up some of the tree trunks. Sabine picks some of these Indian Bread fungi for us to try. They are sweet and woodsy.
An initial suspension bridge traverses a gully. After crossing a stream and climbing a bit more, we reach a giant suspension bridge spanning a tall ravine. The bridge is very bouncy and the faster you move, the more it sways.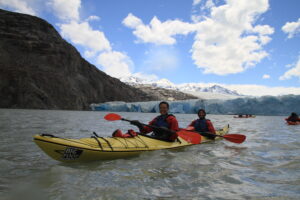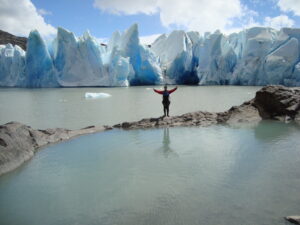 The afternoon's kayaking exploration to the glacier is choppy as we cruise over little waves. We are surrounded by the sound of whooshing water and the sight of swirling water. After beaching the kayaks, we climb up a hill and reach a pond. On the ledge above the pond, you can see the side of the glacier.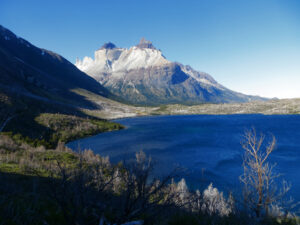 To the Catamaran and Beyond! (Day 6)
Distance: 6.4 miles
Elevation Gain: 956′
The hike backtracks along the eastern shore of Lago Grey back to the northern catamaran dock on Lago Pehoé. The catamaran cruises east through Lago Pehoé past the granite spires to the north all the way back to the park entrance. A bus at the entrance drives down hilly roads for two hours past guanacos and flocks of rhea to Puerto Natales.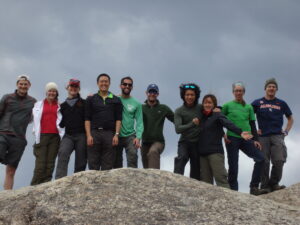 Plan Your Visit
Transportation: Catch a flight to Santiago, Chile. Fly to Puerto Arenas. Take a bus to Puerto Natales. Take a bus to Torres del Paine.
Lodging: Refugios are mountain lodges with mixed gender bunk beds and shared bathroom facilities.
Food: Lunch and dinner are focused on carbohydrates (pasta and rice) and proteins (chicken and beef).
Video Tour of the W Trek in Patagonia