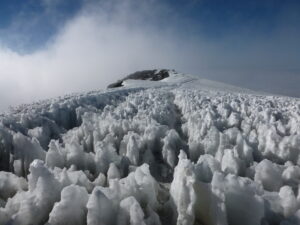 Objective: Summit Kilimanjaro, Tanzania, Africa
Distance: 56.6 miles/91.1 km (round-trip)
Peak Elevation: 19,341'/5,895 m
Elevation Gain: 13,305'/4,055 m
Trip Length: 6 days
Terrain: Rainforest, heath, moorland, alpine desert, arctic, glacier
Best time to visit: January to March, June to October
Caution: Altitude sickness, snow, and wind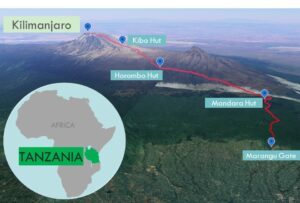 From Marangu Gate, Marangu Route climbs the southeastern flank of Kilimanjaro. After rising from the rainforest, we spend the first night in an A-frame at Mandara Hut, next to Maundi Crater. The second day transitions from heath to moorland, with bunks at Horombo Hut above the clouds. This route has the lowest success rate due to the shortest acclimatization window of the seven routes. This is why we need the acclimatization day at Horombo. On the fourth day, we cross the alpine desert west of Mawenzi Peak, and reach the lodge of Kibo Hut. With an alpine start at midnight of Day 5, the team hikes the steep slope to Kibo Peak. With the crater rim in sight, we climb to the top of Uhuru. Then, we descend from the arctic conditions to spend the night at Horombo. The final day descends and retraces the way back to Marangu Gate.
Day 1 | Day 2 | Day 3 | Day 4 | Day 5 | Day 6 | Plan Your Visit | Video Tour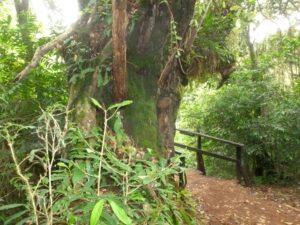 Marangu Gate to Mandara Hut (Day 1)
Distance: 5 miles/8 km: Marangu Gate (6,036'/1,840 m) to Mandara Hut (8,907'/2,715 m)
Elevation Gain: 2,871'/875 m
Our van leaves the outskirts of Moshi and drives an hour past banana and coffee farms to Marangu village. At the entrance of Kilimanjaro National Park, our 13-person team meets our head guide, Hebron. The porters busily organize our 10-kg duffel bags and food provisions. We fill our water bottles, grab lunch packs, and begin the journey.
Beyond Marangu Gate, fern fronds and orchid vines envelop the the tropical rainforest with a dense canopy above. Green and silver mosses provide a lush blanket by muddy streams and miniature cascades. Even tiny yet vibrantly colored wildflowers cover the rocks. The abundance of hanging vines seems to invite you to swing like Tarzan or George of the Jungle. The guides gently instruct us to hike "pole, pole," which is Swahili for "slowly, slowly." This will conserve energy for the summit attempt. The guides remind us to drink three liters of water per day to prevent altitude sickness. In response, the group invents the companion phrase to pole, pole, which is "sippy, sippy."
Mandara Hut is located near the tall feathery grasses of Maundi Crater. This camp has wood cabins with bunks for four people, along a rather flat and open clearing. Before dinner, we take a quick acclimatization hike to Maundi Crater, and encounter a screeching tree hyrax in the moonlight. Before each meal, we use a basin of water to clean up.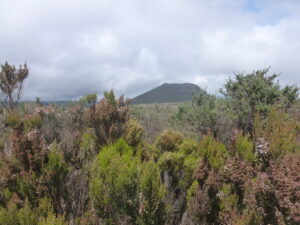 Mandara Hut to Horombo Hut (Day 2)
Distance: 7.2 miles/11.6 km: Mandara Hut (8,907'/2,715 m) to Horombo Hut (12,155'/3,705 m)
Elevation Gain: 3,248'/990 m
Before sunrise, we wake up to the sight of thermos bottles full of ginger tea and coffee. The group assembles at a mess hall, where we feast on honey coated chapati (crepe-style pancakes), porridge, and eggs. After breakfast, we grab our iodine-treated water, pack up, and are on our way.
The trees and vines soon give way to the waist-high shrubs and heather bushes of the heath and moorland. Candy corn-colored red-hot pokers and mountain thistles rest comfortably below thin strands of moss. The combination of low moisture and nightly frost in the moorland has resulted in vegetation that have become adept at conserving water and defending against chilly temperatures. The surreal Seussian landscape of bizarre plants in the moorland is best exemplified by the giant groundsel trees. These trees have trunks sheathed with withered bushy beards topped with a crown of large green giraffe ear leaves. The enormous lobelia has a rosette that looks like a cross between a giant pinecone and a pineapple.
An intimidating pair of white-necked ravens boldly circles directly over us and lands a few feet away. They are black with large misshapen beaks that look like garden shears and a white patch on their necks.
Most meals consist of copious amounts of spaghetti with curry vegetable sauce.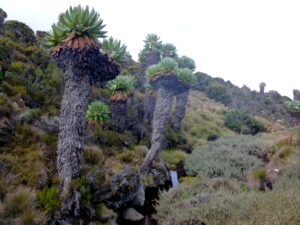 Horombo Hut: "Acclimatization Day" (Day 3)
During today's layover, we take an acclimatization hike to Zebra Rocks. The Zebra Rocks are true to their name, with large vertical black and white stripes. Just below Zebra Rocks, there are tall piles of rocks where each stacked rock represents someone's wish. Each of us adds a stone to the hill of dreams.
After lunch, we form a circle and meet all the cooks, porters, and guides. Each person is led into the center to bust some dance moves as the group sings along. Then, we continue to shoot the breeze at an A-frame hut overlooking a little creek bordered by giant groundsel groves.
For the remainder of the afternoon, we watch the clouds roll by, above and below. The sunlight seems to tickle the snow atop Kibo, perhaps at the very spot of the legendary frozen leopard. At times, the Sun peeks out, and Moshi too. Shades of pink, blue, and yellow dance above the clouds along the horizon. Once the Sun begins its well-deserved slumber, the teeming stars start to twinkle. And the majestic, swirling Milky Way finally reveals its mysteries.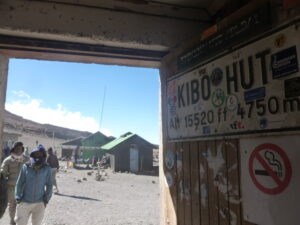 Horombo Hut to Kibo Hut (Day 4)
Distance: 6 miles/9.7 km: Horombo Hut (12,155'/3,705 m) to Kibo Hut (15,518'/4,730 m)
Elevation Gain: 3,363'/1,025 m
Out in the alpine desert, it's mainly rocks and dirt. The only plant-life here are lichen and the hardy everlasting flower. The wind rips through the landscape and we can see the first unobstructed views of Uhuru peak. It is time to put on the wind jacket.
At 14,400', we pass a sign marking the Saddle Plateau between Kibo and Mawenzi. Kibo is the largest of the three volcanic cones (Kibo, Mawenzi, and Shira) on Kili. Here, the trail seems to stretch for miles in a straight line.
On the way, some guides take a victim of altitude sickness down the trail in a stretcher. The guides know what they are doing. When they tell me to hike slowly, I hike slowly. If they tell me to drink so much water that I have to urinate every hour, I drink water. When they tell me to eat as much as possible because your appetite diminishes higher up, I keep eating.
At this elevation, a little exertion can take your breath away. As usual, after dinner, Hebron briefs us on tomorrow's plan. On a daily basis, I place my finger into an oximeter that reads my oxygen level and resting pulse rate. I have decided not to take any diamox, and so far so good. Some members of the group are experiencing serious headaches. One member will not be summiting with us tomorrow. At Kibo Hut, our remaining group of 12 ends up bunking together in the same room in a long lodge. Due to the early final ascent, it's lights out at 6 p.m. We are all a bit anxious to summit Kilimanjaro tomorrow.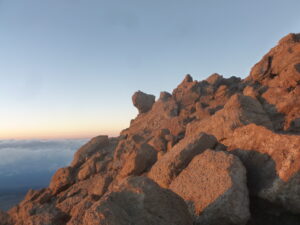 Kibo Hut to UHURU to Horombo Hut (Day 5)
Distance: 3.35 miles/5.4 km: Kibo Hut (15,518'/4,730 m) to Uhuru (19,341'/5,895 m)
Elevation Gain: 3,823'/1,165 m: Kibo Hut to Uhuru
Distance: 9.35 miles/14.5 km: Uhuru (19,341'/5,895 m) to Horombo Hut (12,155'/3,705 m)
Elevation Gain: -7,186'/2,190 m: Uhuru to Horombo Hut
After a lot of tossing and turning, we rise and put on all our layers. We head out of Kibo for a midnight alpine start and form dots of lights up the path. We climb steep switchbacks while the guides serenade us in the dark beneath the stars and the moon. Hours later, the Sun rises above the clouds and begins illuminating the rocky scree slope as the air becomes thinner.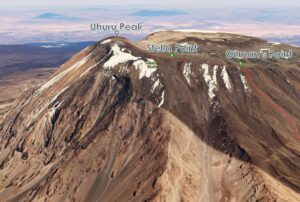 You may have to dig deep at this point. If that's the case, remember to take deep breaths and call upon every ounce of determination. At the caldera rim, we charge past Gilman's Point and push through Stella Point. We shuffle up the snow-covered incline to the roof of Africa.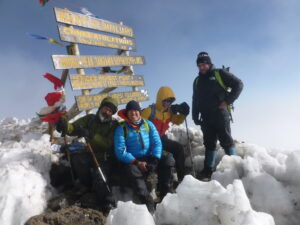 As we navigate the tops of precarious, slick, icy fins, the blizzard blasts our faces with ice and grit. With every step, your leg must combat the 60 mph gusts. Or there is a risk of falling into the gullies between hard icy fins from which you must climb out. About 20 feet to the right is a sheer vertical drop into the caldera. So it is fortunate that the wind is blowing to the left. After one last slow and brutal climb, it feels great to summit Kilimanjaro.
After a short stop at the summit, Kilimanjaro and its severe conditions are quickly in our rear-view mirrors. We fly down some scree to Kibo for lunch, followed by a slog down to Horombo for the night.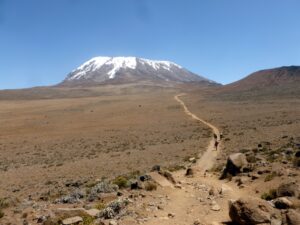 Horombo Hut to Marangu Gate (Day 6)
Distance: 12.2 miles/19.6 km: Horombo Hut (12,155'/3,705 m) to Marangu Gate (6,036'/1,840 m)
Elevation Gain: -6,119'/1,865 m
Our guides, cooks, and porters have assembled for a final farewell with singing and dancing. In fact, the guides, cooks, and porters deserve all the thanks in the world. They hauled our gear, carried our supplies, and kept us well fed and healthy. "No retreat, no surrender!"
The temperature is comfortable, the air is thick as molasses. As a result, we fly through the downhill path to Marangu Gate. In Moshi, our baker's dozen celebrates with the guides and wonderful trekking team with a well-deserved bottle of banana beer.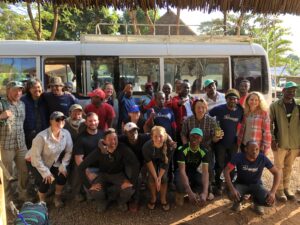 Plan Your Visit – Summit Kilimanjaro
Transportation: Catch a flight to Arusha, Tanzania. Drive to Moshi. Take a bus to Marangu. Hike to summit Kilimanjaro.
Porters and Gear: Porters can carry up to 10 kg/22 lbs.
Lodging: A-frame huts have bunk beds for four to six people.
Food: Breakfast may have crepes, toast, and eggs. Lunch and dinner provide carbohydrates (pasta and rice) and proteins (chicken, beef, fish).
Video Tour – Summit Kilimanjaro