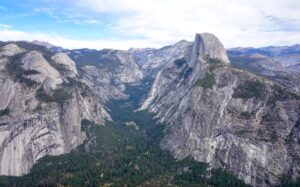 Objective: Summit Half Dome, Yosemite National Park, California, USA
Distance: 15 miles (round-trip)
Peak Elevation: 8,839′
Elevation Gain: 5,000′
Trip Length: 1 day
Terrain: Mountain, waterfall
Best time to visit: Memorial Day to October
Caution: Cables, lightning, dehydration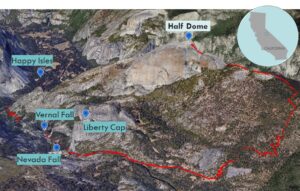 Iconic. Rarefied. Supersonic. There are not enough superlatives to describe Half Dome. Yosemite is a monument to the sculptural grace and sheer destructive force of glaciation. During past ice ages, the valley was covered by glaciers with only the tops of the domes and El Capitan poking through. Half Dome's vertical face is so smooth that it appears to have been sliced off by a butter knife.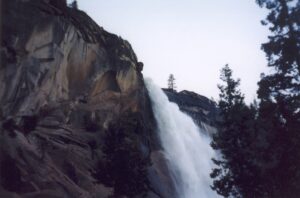 Go climb a rock.
Within an hour from the Happy Isles trailhead, you reach a bridge from where you can admire the sights and sounds of Vernal Fall. While climbing the slippery stone steps along the aptly named Mist Trail, water droplets rapidly bead up on your jacket. The rock staircase culminates at the top of the surging Nevada Fall.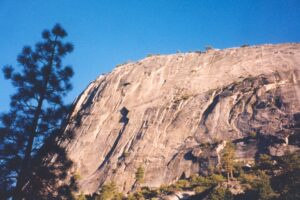 A footbridge traverses a ravine above the Merced River. Then the trail merges into the John Muir Trail with the large granite wall of Liberty Cap to the north. Over the next couple of miles is a refreshingly flat interlude through Little Yosemite Valley, with the Merced River to the south.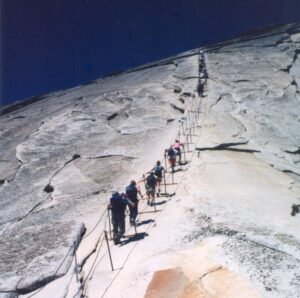 At Half Dome's eastern saddle, the Half Dome Trail climbs really steep switchbacks up the shoulder and ends at the base of the notorious cable ladder. Grab a pair of gloves from the pile and climb the vertical and vertigo-inducing cable route to the top. This is a legendary outdoor experience and your life is literally in your hands, so squeeze tightly and watch out for people above and below!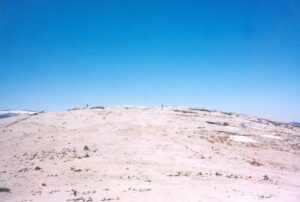 Not only will you enjoy breathtaking views of Yosemite Valley, you may even get to see some patches of snow.
Directions
At Yosemite National Park, begin from Happy Isles (shuttle stop #16), about 0.5 miles from the trailhead parking lot or 0.75 miles from Curry Village.
Red Tape
Permits are required to summit Half Dome when the cables are up. The permit has a nonrefundable $10 processing fee plus $10 when the permit is received. During the preseason lottery (March 1st to March 31st), 225 permits are available per day. During hiking season (May 20th to October 11th), the daily lottery has 50 permits per day. Follow the procedures for submitting an online permit request: https://www.recreation.gov/permits/234652
Video Tour of Summit Half Dome