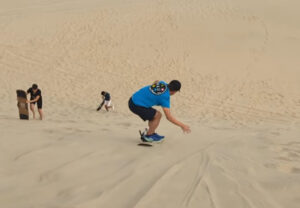 Sandboarding in Qatar
Sandboarding is a hybrid board sport with elements taken from snowboarding, surfing, and skateboarding. Riders stand on boards and then drift down sand dunes. The sand is soft and powdery, so balancing is light yet challenging. Explore the desert by sandboarding in Qatar. You will be carving up swirling sprays of sand in no time!
The ancient Egyptian pharaohs invented this sport, as proven by hieroglyphics of people riding down dunes on pieces of wood or pottery.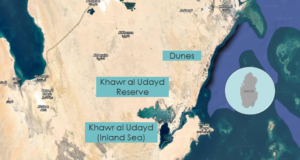 Dune Bashing to the Sweet Spot
Many of these desert adventures bundle camel rides, dune bashing, sandboarding, and trips to the Inland Sea together. After a quick camel ride, we board a Toyota Land Cruiser where our guide, Ahmed, has taken the wheel. Dune bashing is the local term for off-roading on the desert dunes. There are tracks of previous SUVs, a few cones, and some cell phone towers, but that's it for navigation. The truck slides and fishtails as he corners quickly. It is somewhat shocking to see the truck go straight up or down a tall dune. Along the top edge of the dune, the truck glides gleefully along to banging beats.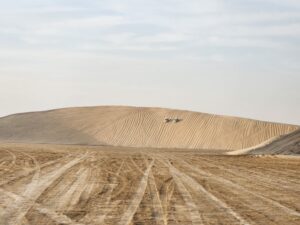 Our guide finds a spot above a particularly steep dune. While parking, he pretends he is going to run over one of the guests, which really freaks everyone out.
Finding Your Balance
The sandboard has bindings, but no clips to hold your feet to the bindings. That is probably so you can fall off the board without breaking your ankles off. Because of this, you won't really be carving too much. You just mount the board sideways and go straight down without wiping out for as long as possible. Once you wipe out, you will be completely covered in grains of sand.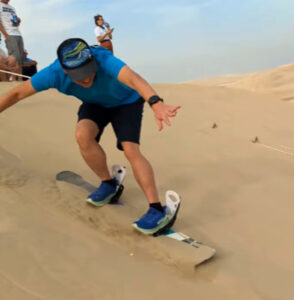 The straighter you stand up, the faster the board goes. The more you crouch down, the slower it goes – probably. You can shift your weight to turn it a bit. You can also put a hand down on the sand to slow down. Or, just go full blast as some do, and get launched into the sand at the bottom.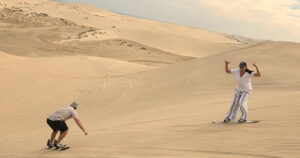 The climb back up is really steep, which is why they have added a ladder in the sand. Every step you take, you slide down a bit as well. On the ladder, you don't slide back at all. Climbing up the hill is where most of your energy is expended. In this sport, there is nothing better than being on the way down.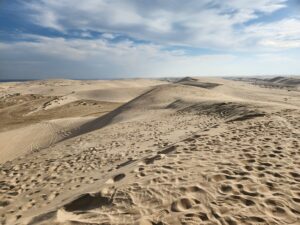 Inland Sea
After sandboarding, it's more dune bashing until we reach the Inland Sea. The Inland Sea is at the southeastern corner of Qatar by its border with Saudi Arabia next to the Persian Gulf. Saudi Arabia is so close that you can see it across the sea, less than a mile away. The sea border on the map is shown as only 0.2 miles away, so you could probably swim across the border if they don't stop you. The water in the Gulf isn't too cold and it is crystal clear, with streaks of blue and green. The sand extends for twenty feet or so, and then it just drops off a cliff where the water turns dark blue. This is a popular place for Qatari families to go camping. It's a great getaway from Doha. My time in the desert has been the highlight of my trip to Qatar.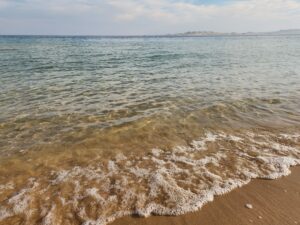 Road to Doha
On the way back, Ahmed tells us that his family is from Yemen, but how he grew up in Qatar and that his kids have been born here as well. There isn't much of a path to citizenship even after multiple generations. Before we leave the desert, we stop at an air station to make sure the tires are neither over or under-inflated. For some reason, the sun looks gigantic and red along the horizon at sunset. Photos don't do this optical illusion any justice.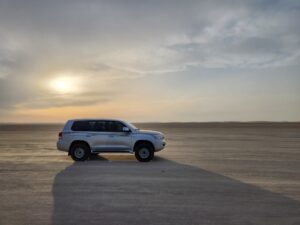 Directions
From Doha, take the red line on the Metro to Al Wakra station. A van will drive south for 30 minutes past Mesaieed's oil refineries to the Desert Safari Camel Ride center. After an obligatory camel ride, a Land Cruiser will take you dune bashing until you reach the sandboarding site.
Go sandboarding in Qatar, dune bashing, camel riding, and explore the Inland Sea. Try this unique Qatari experience:
Get Your Guide – Desert Safari