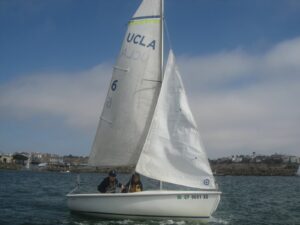 Sailing has drawn its energy from the wind for the past 5,000 years. Civilizations have relied on it for transportation, fishing, trading, and exploration. The love of the open
seas has been imprinted at our core from long ago. Sailing offers the lure of freedom across the seas. Take a sailing lesson at the UCLA Marina Aquatic Center. Sail Marina del Rey. The ocean after all is right around the corner in LA.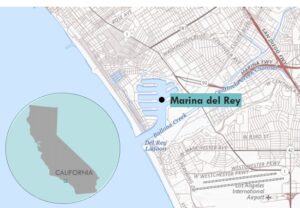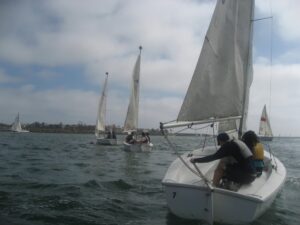 What Will You Learn?
The class structure contains three parts. There is a classroom portion that covers basic nautical knowledge and sailing concepts, such as how a sail interacts with the wind. Next, you are given hands-on experience for rigging a sailboat. The rest of the class takes place on the water in a dinghy.
The primary sailing area is the Marina del Rey entrance channel. The entrance channel is divided into three lanes with white and orange "No Sail" buoys. Sailboats must stay within the center lane between the two lines of buoys.
Students are taught how to sense the wind and understand where the wind is coming from to use it properly. There is ample time to learn how to start, slow, and stop the boat. You will learn basic maneuvers such as gybing and tacking to steer the boat. Finally, there is a chance to jump in the water to practice what to do if a boat capsizes.
Directions
From LA, follow the 10 W until you reach the 405 S. Drive 3.6 miles and take exit 50B to merge onto CA-90 W. Drive 2.5 miles. Follow Take Fiji Way until you reach the UCLA Marina Aquatic Center.
Schedule a sailing lesson with UCLA Marina Aquatic Center: https://www.recreation.ucla.edu/mac
Gear
Bring shoes, a towel, and sun protection.