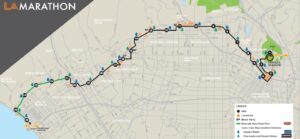 Pheidippides ran from Marathon to Athens to deliver news of victory with his last breath before dying. While not quite as dramatic, you can run 26.2 miles (42.2 km) to recreate that legendary marathon journey. The LA Marathon starts above DTLA at Dodger Stadium and makes its way through city neighborhoods to the Pacific Ocean.
Here are 26.2 observations about the LA Marathon.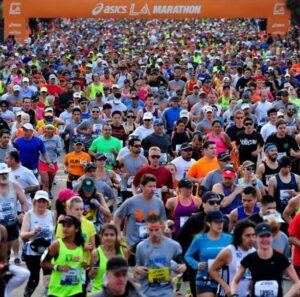 26.2 Observations
1: Two revolutions around venerable Dodgers stadium.
2: After a sharp 90° left turn, downtown is literally around the corner.
3: A deluge of human energy flooded the typically feet-free streets of Los Angeles.
4: A crew of men and women marking their territory on the soggy slopes.
5: Echo Park Lake's fountain is beautiful in the morning and at the bottom of the hillside is a family passing out orange slices in a large, green, plastic bowl.
6: Caught in a time warp: the charming Victorian houses along this area come in such a wide assortment of funky colors.
7: The quirky shops and dive bars of Silver Lake are luscious eye candy.
8: Your legs mysteriously move quicker when listening to a song with BPMs a tad faster than your current pace.
9: I truly will move back to Los Feliz someday.
10: From the freeway overpass, the steady stream of passionate honking from the cars below is bizarrely inspirational.
11: It's uncanny to see so many locals converge upon Hollywood.
12: The towering, orange, inflated, arch-shaped mile markers encourage me to keep pushing.
13: The Sunset Strip looks so drab and ordinary in daylight.
14: I saw a guy with a swan hat atop his head, a guy in a red jumpsuit, and a guy holding a ten-foot rain gutter cross.
15: About every other mile, I tore off my headphones and listened to local bands that rocketed my spirits to the sky.
16: It felt so good every time someone read the name on my bib and shouted "Renegade!"
17: The genteel denizens of Beverly Hills never would have imagined that their pristine stretch would be despoiled by crushed, paper cups and sticky, evaporated electrolyte remnants.
18: The best idea of the race: a fire hydrant sharing its heat-thwarting goodness.
19: Hail to the Hills of Westwood – my old college stomping grounds!
20: The second best idea of the race: analgesic sprays for dulling the pain in my legs.
21: Don't look at the prostrate man on the ground receiving medical attention. Don't think about all of the people walking up the hills.
22: There are rare moments in your life where the true measure of your character is tested. This was one of them and I rose to the occasion.
23: I repeatedly punched my left arm in a desperate attempt to keep moving my throbbing legs.
24: To the ocean! The signs promise bacon and beer at the finish.
25: The coastline is in sight, the flowers are fragrant, the last turn is near, and if only you could have seen my most ecstatic grin ever.
26: I had just enough juice to sprint and leap over the finish line, pump my fist, and let out a protracted primal scream.
26.2: Here's a freebie: huddled masses of space blanket-wearing marathon finishers.
Video Tour of LA Marathon