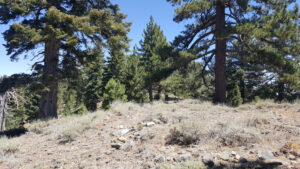 Objective: Summit Wright Mountain, San Gabriel Mountains, California
Distance: 9 miles (out and back)
Peak Elevation: 8,505′
Elevation Gain: 2,525′
Difficulty: Strenuous
From Wrightwood, you are as close to a peak in the San Bernardinos as you are in the San Gabriels. Wright Mountain is the closest summit to Wrightwood.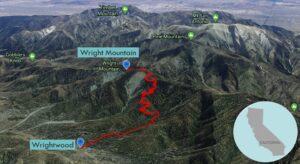 Directions to Trailhead
From the Angeles Crest Highway (CA-2) in the town of Wrightwood, turn south onto Pine Street. Use the public parking lot between the bank and Pine. Walk south on Pine. Turn right on Partridge. Turn left on Acorn Drive. Follow Acorn until you reach a large "private road" sign on the right. Do not park your car beyond the sign as it will be towed away. The trailhead is another 1/2 mile beyond the sign. Walk to the end of the paved road. There is a gate where a dirt road continues. Follow the dirt road until you see the signed trailhead. (This walk adds a total of 2.6 miles and 588′ of elevation gain to the hike.)
Directions to Summit
Parking: Walk to the trailhead.
1.4 miles: Trailhead: From the Acorn trailhead, the trail climbs Acorn Canyon. The trail continues climbing gradually to the top of Blue Ridge.
3.3 miles: Turn left onto the Pacific Crest Trail (PCT).
4.2 miles: Leave the trail and head cross country northeast to the peak.
4.5 miles: You have reached Wright Mountain. Turn around and head back.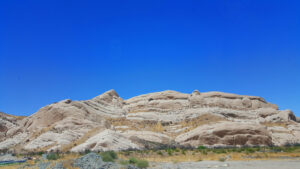 Trek Highlights
From the Acorn trailhead, the trail rises through Acorn Canyon. The trail climbs up about a dozen switchbacks while traversing a ridge dividing Acorn Canyon and Heath Canyon. The trail climbs gradually to the PCT along the Blue Ridge.
Once you are below the summit of Wright Mountain, you can scramble up the pine needle covered slope. After the scramble, the way levels off and the summit is more of a flattop.
Insider Tip: A local said there is a waterfall if you keep going past the PCT and Acorn Trail junction. Another local mentioned the AC100, a 100-mile trail run along the Angeles Crest from Wrightwood to Altadena.
Factoids
Buford Wright was the original developer of Wrightwood.
Photos