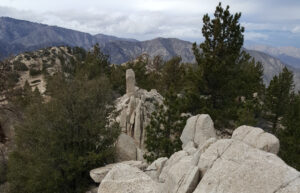 Objective: Summit Winston Peak and Winston Ridge, San Gabriel Mountains, California
Distance: 4.3 miles (loop)
Peak Elevation: WP: 7,502', WR: 7,003′
Elevation Gain: 1,365′
Difficulty: Moderate
The two Winstons. Well, Winston Peak is a breeze. Getting to Winston Ridge requires a bit of ups and downs. The return on the Pacific Crest Trail avoids an 800′ climb to Winston Peak. If you are looking for more of a challenge, simply make this an out and back.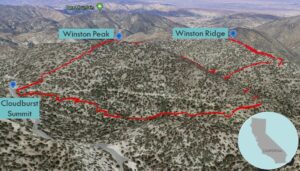 Directions to Trailhead
From the 210 East in La Cañada, drive 33 miles on Angeles Crest Highway (CA-2). Park at the Cloudburst Summit parking lot.
Directions to Summit
Trailhead: Above and to the left of the fire road gate, follow the hiker sign uphill to the high trail.
0.1 miles: Turn left at the use trail. The route climbs past boulders and pine trees.
0.6 miles: Climb 500′ to Winston Peak. The trail rapidly descends and the north face drops you down to a saddle.
1.1 miles: At the saddle, stay to the left of the hill and head northwest (do not take the PCT).
1.4 miles: At the second saddle, head northwest up the ridgeline of Winston Ridge.
2 miles: The ridgeline flattens at the summit of Winston Ridge.
2.45 miles: At the saddle below Winston Ridge, head southeast.
2.75 miles: At the saddle below Winston Peak, turn left on the PCT to bypass the steep north face.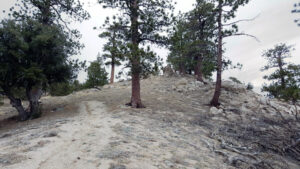 Trek Highlights
The trail follows an uneventful incline to the summit of Winston Peak.
You descend an extremely steep chute that funnels you down to a saddle. At this four-way intersection, you must go left around a hill. The path is somewhat crumbly and it feels like you are stepping on fragile plates that crack and shatter. You take a step on the edge and the ground, dirt, and rocks fall away down the slope.
At the saddle below Winston Ridge, you turn left up the ridgeline until you reach a gateway of massive granite boulders marking the summit of Winston Ridge. From the top of Winston Ridge, you have expansive views on both sides.
Red Tape
Display your adventure pass.
Factoids
L.C. Winston was a Pasadena banker who died in a blizzard on a hunting trip in the mountains in 1900. He was later found on the ridge.
Photos