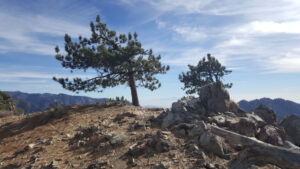 Objective: Summit Will Thrall Peak, San Gabriel Mountains, California
Distance: 11.4 miles (out and back)
Peak Elevation: 7,845′
Elevation Gain: 3,283′
Difficulty: Strenuous
It is fun to think about walking through the San Gabriel Mountains over the highest peaks to the northern edge. There is a fair amount of elevation gain and distance from the Angeles Crest Highway to Will Thrall Peak. You could keep going to Antelope Valley as it is practically all downhill from there.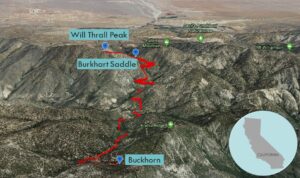 Directions to Trailhead
From the 210 East in La Cañada, drive 33.8 miles on Angeles Crest Highway (CA-2). Continue until you pass the Mt. Waterman ski lift on the right. From the Buckhorn Day Use Area entrance, drive to the trailhead parking area. If the gate is locked, park by the campground exit 0.8 miles to the east of the entrance. From the exit, you must walk 0.7 miles to the trailhead.
Directions to Summit
Parking Exit: Hike 0.7 miles to the trailhead.
Trailhead: Hike northeast along Burkhart Trail.
1.5 miles: At the junction with the trail to Cooper Canyon Camp, keep right to head east on the PCT.
1.8 miles: Cross Little Rock Creek and travel 100'. At the junction with the PCT (Rattlesnake Trail to the right), keep left to stay on Burkhart Trail.
5.1 miles: At Burkhart Saddle, climb the use trail to the left up Pleasant View Ridge. (You could go right to summit Pallett.)
5.6 miles: You have reached Will Thrall Peak. Turn around and head back.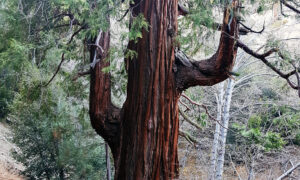 Trek Highlights
From the Angeles Crest Highway to the campgrounds in Buckhorn Flat, you reach the trailhead to Burkhart Trail. The fir scented trail is flat at first and then descends to follow the gentle sloshing sounds of the creek. The valley is filled with giant redwoods, yellow leaves, miniature waterfalls, and pink shrubbery. The ground is dotted with pine cones and chair-sized tree bark.
Burkhart Trail merges and then divests itself with the Pacific Crest Trail. After a few creek crossings, the trail begins climbing past dreaded Spanish Bayonets and never looks back. The stone-covered narrow path hugs the slopes and navigates the criss-crossing canyons and intersecting ridgelines.
Burkhart Saddle is a notch between Will Thrall Peak and Pallett Mountain, as well as a string of other peaks along the same ridge including Mt. Williamson. At the saddle you can turn to the right for Pallett Mountain. Today, go left up the steep use trail straight up to the summit of Will Thrall Peak. Once atop the peak, you can see the expanse of Antelope Valley to the north: Pearblossom, Llano, and ultimately Lancaster.
Red Tape
Display your adventure pass.
Factoids
Will Thrall was a hiker, writer, and explorer who promoted the conservation of the San Gabriel Mountains. He was an early wilderness writer.
Photos