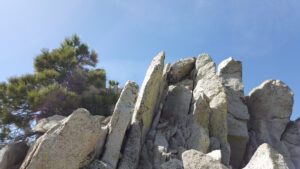 Objective: Summit Waterman Mountain, San Gabriel Mountains, California
Distance: 5.6 miles (out and back)
Peak Elevation: 8,038′
Elevation Gain: 1,238′
Difficulty: Moderate
At the top of Waterman Mountain, there are some granite slabs and spires that you must scramble on. Keep climbing until you see the benchmark. The summit is on the northern edge of the San Gabriel Wilderness. Wilderness areas have been set aside to preserve their wilderness character and development is prohibited.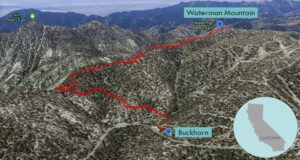 Directions to Trailhead
From the 210 East in La Cañada, drive 33.8 miles on Angeles Crest Highway (CA-2). Continue until you pass the Mt. Waterman ski lift on the right. Park at the Buckhorn Day Use Area parking lot on the left.
Directions to Summit
Trailhead: From the parking area, cross the road and walk southeast about 200′ to a gated dirt road.
0.1 miles: At the first junction, take the left fork and head south on the Waterman Mountain Loop trail.
0.9 miles: The trail takes a big turn and heads west.
1.6 miles: The trail reaches the first of a few switchbacks.
2 miles: At the second junction, take the right fork rising to the saddle. The saddle follows the summit ridge.
2.6 miles: When you see a spur trail, go off-trail to the left (south) and climb the remaining few hundred feet to the top.
2.8 miles: Climb a series of rock spires. You have reached Waterman Mountain. Turn around and head back.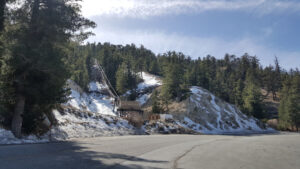 Trek Highlights
After passing the gate to the dirt road, you need to look for the junction with the southbound Waterman Mountain Loop trail. The cedar and pine needle dusted trail starts off soft and wide as it hugs the flanks of the mountain. A third of the way in, the trail takes a big turn around the shoulder of Waterman Mountain. The path climbs a handful of switchbacks until it reaches the junction with the trail to the Twin Peaks.
Along the saddle, it looks like it has been topped with coconut milk shakes and vanilla slushies. The trail starts singing with a hefty crunch, then a light thud, followed by a reverberating twang. Each boot step emulates the sonic stylings of a swooping shovel followed by a footfall on hills of granola. Once you notice the trail fork, go off-trail to the left and climb across the northern face of the peak.
At the flat plateau, you will need to do a bit of bouldering over some granite spires. Each time you get to the top of one of the rock piles, you need to keep going until nothing is higher.
Red Tape
Display your adventure pass.
Factoids
Robert Waterman originally named this peak Mt. Lady Waterman after his wife Liz, the first non-indigenous woman to climb it. Waterman was a Forest Ranger in the old San Gabriel Timberland Reserve.
Photos