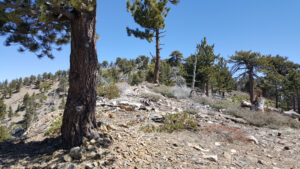 Objective: Summit Throop Peak, San Gabriel Mountains, California
Distance: 10 miles (out and back)
Peak Elevation: 9,138′
Elevation Gain: 2,409′
Difficulty: Strenuous
The trail to Throop Peak rises above the Angeles Crest Highway and follows a ridgeline to the summit. Even in late spring, the ridge can be covered with snow and ice, so you may want to bring cramp-ons. Hiking from Dawson Saddle is much shorter than Islip Saddle. However, the road to Dawson Saddle is usually closed in winter. The peak has a plaque honoring the founder of Cal Tech.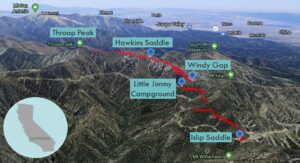 Directions to Trailhead
From the 210 East in La Cañada, drive 40 miles on Angeles Crest Highway (CA-2), past two tunnels. Park in the large parking lot at Islip Saddle on the left (north).
Directions to Summit
Trailhead: From the east end of the parking lot, cross the road, and locate the trailhead for the Pacific Crest Trail (PCT). The trail immediately rises up some switchbacks.
1 mile: At the junction with Little Jimmy Road, cross the road and stay on the PCT.
2.2 miles: Little Jimmy Campground is on the right.
2.4 miles: At Windy Gap, continue east on the PCT along the ridgeline.
3.8 miles: At Hawkins Saddle, there is a ridge trail that forks to the south. This is the turnoff for Middle Hawkins and South Mount Hawkins. Keep going straight on the PCT.
4.2 miles: Bypass the use trail to Mount Hawkins. Keep going straight on the PCT.
4.8 miles: The Throop Peak saddle is to the left of the PCT.
4.9 miles: When you are south of Throop Peak, spot the southwest ridgeline, and follow one of the use trails to the top of the peak.
5 miles: You have reached Throop Peak. Turn around and head back.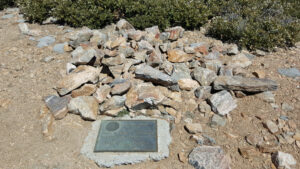 Trek Highlights
From Islip Saddle, the PCT quickly rises up some switchbacks and then levels off. The trail is soft and wide until the first junction with Little Jimmy Road. There are still some patches of snow before Little Jimmy Campground.
Once you reach Windy Gap, the ridgeline between Mt. Islip and Mt. Hawkins gets rather steep and is heavily blanketed with snow. The trail is mostly hidden and a misstep could cause you to slide a great distance down the snow covered slope to the left. Once you cross the trail junction to Hawkins Ridge, which extends to the south, the PCT takes a slight dip. You continue following the Islip-Hawkins ridgeline until the PCT veers left away from Mt. Hawkins.
Continue on the PCT until you are due south of Throop Peak. Spot the southwest ridgeline and follow one of the use trails to the top of the peak. There is a plaque on the summit in honor of Amos Throop, founder of Cal Tech.
Red Tape
Display your adventure pass.
Factoids
In 1891, Amos G. Throop founded Throop University in Pasadena, which later became the California Institute of Technology.
Photos