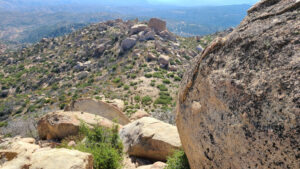 Objective: Summit the Pinnacles, Lake Arrowhead, California
Distance: 4.4 miles (out and back)
Peak Elevation: 5,737′
Elevation Gain: 1,168′
Difficulty: Easy
The sandy path to the top of the Pinnacles passes some oddly placed boulders. It seems like you are interrupting a giant's game of marbles. Most likely, the random piles of mega-boulders were shaped by the same geological processes that formed Joshua Tree's landscape.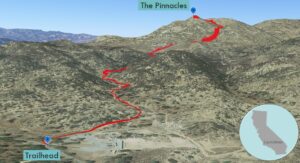 Directions to Trailhead
From the 210 E in San Bernardino, take exit 76. Turn left at CA-18 (N Waterman Avenue). Continue north on CA-18 for 14.2 miles. Turn left onto Lake Gregory Drive. Immediately turn right onto CA-189 E. Drive 2.7 miles. Turn left onto Grass Valley Road. Drive 2 miles. Turn left to stay on Grass Valley Road. Drive 2.5 miles. At the T-junction, turn left onto CA-173 W. Continue for 0.8 miles until reaching the parking area for the trailhead on the left.
Directions to Summit
Parking: Head north along the CA-173 W. There is a narrow opening in the gate, on the left, just before the shooting range.
0.2 miles: Trailhead: Begin hiking on Pinnacles Trail (3W16).
2.2 miles: You have reached the Pinnacles. Turn around and head back.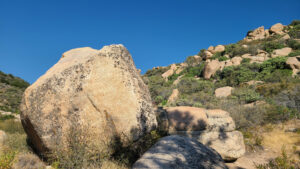 Trek Highlights
There are intermittent thundering booms and cracks from the shooting range. Soon, you notice some interesting scattered rocks and boulders with a handful of pine trees. The path crosses a small, sandy, and bone-dry wash.
The trail becomes super wriggly as it climbs the slope. There are many points where the trail becomes vague. Fortunately, there are many metal posts that point the way. It is easy to get lost, so follow the rock piles, ducks, and cairns.
Every so often, there are randomly placed boulders that look like noses and thumbs. As if the rocks are scattered like a packet of seeds. Before the last climb, the trail dips a little and then becomes level. At the base of a dense cluster of rocks, there is some light bouldering. From the summit, there are great views of other rock piles and hills.
Red Tape
Display your adventure pass.
Photos