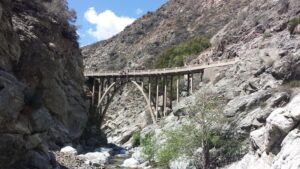 Objective: Hike to the Bridge to Nowhere, San Gabriel Mountains, California
Distance: 9.6 miles (out and back)
Elevation Gain: 1,000′
Difficulty: Moderate
Why was a bridge that does not lead anywhere built in the middle of the San Gabriels? Trek along and across the East Fork San Gabriel River to see for yourself. If you dare, bungee jump off the bridge.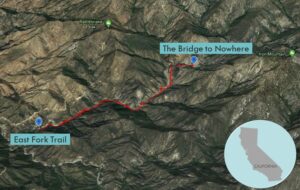 Directions to Trailhead
From the 210 E in Azusa, take Exit 40, turn left (north) on Azusa Avenue (CA-39). Continue 11.8 miles as the road turns into San Gabriel Canyon Road. Turn right onto E Fork Road. Continue 5.2 miles until the very sharp intersection with Glendora Mountain Road. Before the curve, you will see a two-way road straight ahead of you. Drive straight on the right lane of the road and in under a mile you will reach the parking lot.
Directions to Bridge
Trailhead: Walk around the locked gate and head east on the Sunset Ridge Fire Road (2N07).
0.5 miles: From the parking area, pass the locked gate and hike on the East Fork Road.
3.5 miles: The East Fork Road becomes the East Fork Trail.
4.8 miles: You have reached the Bridge to Nowhere. Turn around and head back.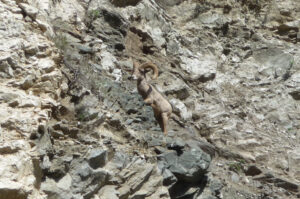 Trek Highlights
The East Fork Trail follows the East Fork San Gabriel River and the path of the attempted highway. At first, the trail is wooded and blanketed in wildflowers. Then there are about six creek crossings over wobbly stones and slippery logs. Remember to talk to the friendly gold prospectors.
After a disorienting jaunt through a dry riverbed and spiky yuccas, you climb a high path along the canyon wall. The East Fork Road was intended to connect the San Gabriel Valley with Wrightwood. However, nature had other designs and the road was swept away by floods in 1938. All that remains is a mysterious bridge built over the river that seemingly leads to nowhere.
The Bridge to Nowhere has a festival atmosphere with crowds cheering on bungee jumpers. This is the only place in Southern California where bungee jumping is allowed ($90/jump). Beyond the bridge, you can descend to the river and swim.
Red Tape
Display your adventure pass.
Photos