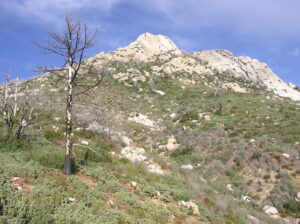 Objective: Summit Stonewall Peak, Cuyamaca Mountains, California
Distance: 4 miles (out and back)
Peak Elevation: 5,730′
Elevation Gain: 900′
Difficulty: Easy
Climbing to the top of Stonewall Peak is a great complement to a day trip to Julian. Near the top, you will walk through some rocky boulders and stone slabs. There is a rail leading to a view point on the summit. From the peak, you can watch condors ride the thermals in the valleys below.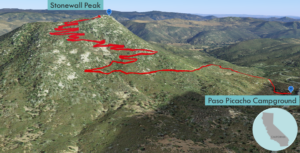 Directions to Trailhead
From the 5 South in Carlsbad, take CA-78 East for 58.3 miles. The road passes through Escondido, Ramona, and Santa Ysabel to the junction with CA-79 just past the town of Julian. Turn right (south) on CA-79 and continue for 10.6 miles past Lake Cuyamaca. Look for the entrance to Paso Picacho Park on the right. Park in the day use area.
Directions to Summit
Trailhead: From the parking area, cross the highway to the beginning of the Stonewall Peak trail.
2 miles: The trail snakes its way up some gentle switchbacks to a junction, where you will turn right to the peak. You have reached Stonewall Peak. Turn around and head back.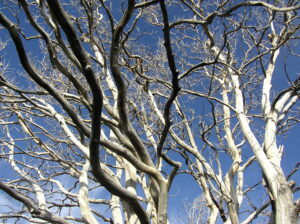 Trek Highlights
During the approach to Stonewall Peak, the prominence of the summit and its traditional triangular shape jump out at you. The trail itself is extremely well groomed, soft, and wide – great for trail running. Much of the mountainside is blanketed with light blue ceanothus blooms and stark white remains of burned branches. The summit has carved stone steps and a rail leading to an observation platform. Due to the peak's prominence, you can see for miles in every direction. There is a bit of a breeze and golden eagles and turkey vultures swoop around in circles trying to catch the next thermal.
Red Tape
There is a day use fee ($8) for the park. Parking along the highway is not permitted near the park.
Factoids
William Skidmore founded a gold mine located on the northeast slope, originally the "Stonewall Jackson Mine" in 1870. The name was changed to "Stonewall Mine". It produced more than $2 million before it closed in 1892.
Photos