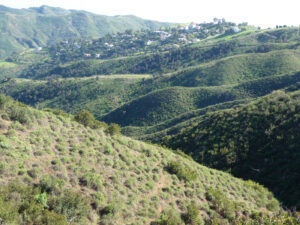 Objective: Hike to Solstice Canyon, Santa Monica Mountains, California
Distance: 3 miles (loop)
Elevation Gain: 800'
Difficulty: Easy
Solstice Canyon harbors numerous treasures. There are ruins of past grandeur, a dry waterfall, and a comfortable shady canyon.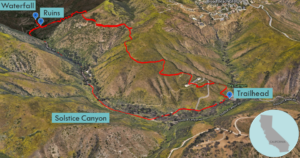 Directions to Trailhead
Head north on PCH, take Malibu Canyon road to Corral Canyon Road and turn right. About a quarter mile up, you will see the gated entrance to Solstice Canyon.
Trail
Trailhead: Follow the Rising Sun Trail.
1.68 miles: You have reached the ruins. Follow the spur trail to the waterfall.
1.73 miles: You have reached the waterfall. Turn around.
1.77 miles: Turn right onto Roberts Road.
2.08 miles: Take the right fork to continue on Solstice Canyon Road.
2.6 miles: Turn left to return to the trailhead.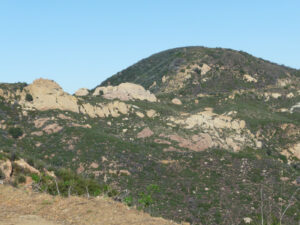 Trek Highlights
The Rising Sun Trail rises a bit on the eastern wall of Solstice Canyon. After about 1.6 miles, there are some hidden statues before the creek crossing.
After the creek, explore the ruins of a burned-down mansion. You can imagine how well the stone and brick remnants must have been integrated into its natural surroundings. The Roberts family home, nicknamed Tropical Terrace, was designed by Paul Revere Williams. This was the brilliant architect who designed the futuristic LAX Theme Building. From the side of Tropical Terrace, trace the steps of the spur trail leading to a modest waterfall.
On the way back, follow Solstice Canyon Road, parallel to the creek along the canyon floor. As you stroll down the path, the baby blue Pacific Ocean is diagonally framed by the green slopes.
Photos