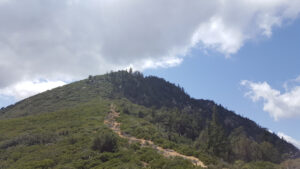 Objective: Summit Smith Peak, San Gabriel Mountains, California
Distance: 7 miles (out and back)
Peak Elevation: 5,111′
Elevation Gain: 1,826′
Difficulty: Moderate
Smith Mountain is located between North Fork San Gabriel River and Beer Creek. The trail crosses through Lost Canyon and Beer Creek Canyon.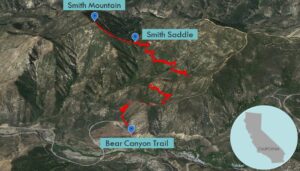 Directions to Trailhead
From the 210 E in Azusa, take Exit 40, turn left (north) on Azusa Avenue (CA-39). Continue 11.8 miles as the road turns into San Gabriel Canyon Road. At the junction with E. East Fork Road, keep going straight. Continue 6.3 miles to a wide paved parking area on the left. (This is before a gate, about 0.2 miles before the Coldbrook Ranger Station and Campground.) Park at the lot.
Directions to Summit
Trailhead: From the north end of the parking lot, begin hiking Bear Canyon Trail.
3 miles: At Smith Saddle, turn left at the use trail.
3.5 miles: You have reached Smith Mountain. Turn around and head back.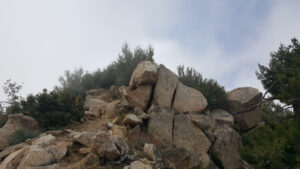 Trek Highlights
Bear Canyon Trail curves around the slopes of Lost Canyon until you reach Smith Saddle. At the saddle, there is a sign on the right that says "San Gabriel Wilderness". Veer left off the trail and follow a use trail south along the ridgeline up to the summit. The use trail is rocky and climbs steeply over half a mile in a straight line up the spine-like ridgeline until you reach the peak.
Red Tape
Display your adventure pass.
Photos