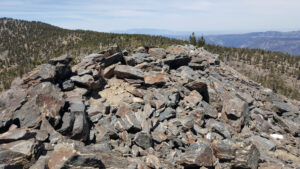 Objective: Summit Shields Peak, San Bernardino Mountains, California
Distance: 13.6 miles (out and back)
Peak Elevation: 10,680′
Elevation Gain: 4,000′
Difficulty: Strenuous
Just getting to the trailhead is exciting across a rough yet short dirt road. You must scramble over some flaky talus at the top of Shields Peak. From the summit, there are gorgeous views of San Gorgonio Mountain. If you are extra energetic, you can always cover the 9 Peaks Traverse. This is a grueling 26 miles connecting the high peaks along the San Bernardino Divide.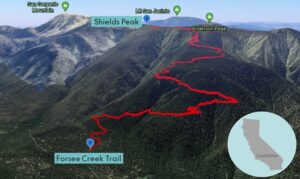 Directions to Trailhead
From the 10 E at Redlands, take exit 79. Continue east on W Pearl Avenue for 0.2 miles. Turn left at Orange Street and drive 0.6 miles. Make a right onto E Lugonia Avenue (CA-38 E) and drive northeast for 23.6 miles. Turn right at Jenks Lake Road W, and drive 0.3 miles. Turn right at Forsee Creek Road. Keep left at an immediate fork. Drive 0.5 miles on a dirt road to a parking lot with a sign "Forsee Creek Trail". Park here.
Directions to Summit
Trailhead: Begin hiking the Forsee Creek Trail (1E06).
0.25 miles: You will reach a Wilderness Area sign. After 200 yards, the trail forks. Stay on the Forsee Creek Trail.
5.9 miles: Turn left. Follow the trail southeast to where it meets the San Bernardino Peak Divide Trail.
6.3 miles: Continue east to where the trail begins to descend the west side of the ridge.
6.7 miles: Leave the trail on the right and follow the very rocky ridge southeast a short distance to the summit.
6.8 miles: Take any path through the talus slope to reach the summit. You have reached Shields Peak. Turn around and head back.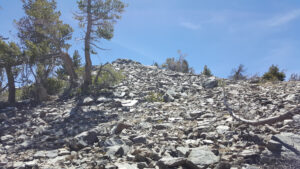 Trek Highlights
The Forsee Creek Trail ascends steeply and steadily at a manageable rate. The trail is wide, soft, and covered in fragrant pine needles.
After the initial set of switchbacks, the trail is studded with pebbles and a handful of snow patches. At some points, it feels like you are on a narrow shelf with nothing on the other side. Just below Trail Fork Springs, breathing can become labored and stops are more frequent. Early in the year, the Forsee Creek Trail ends in a snow bank at the junction with the San Bernardino Peak Divide Trail.
Due to the snow pack, the path just sort of fades in and out. You follow the gully and stay to the left of the snow. When you leave the trail, the route scrambles across some light scree, and hollow-sounding, flaky, Class 2 boulders. There are a few boulder piles before you reach the true talus summit. While wobbling on a precarious boulder perch, the views are fantastic. You can see many of the 10,000+ ft. peaks of the San Bernardinos.
Red Tape
Display your adventure pass.
Factoids
Lelia Shields was the manager of Camp Radford in the 1920s.
Photos