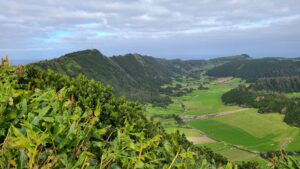 Objective: Vista do Reo and Sete Cidades, São Miguel Island, The Azores
Distance: 10 miles (out and back)
Peak Elevation: 1,831'
Elevation Gain: 1,700′
Difficulty: Moderate
From Miradouro da Vista do Rei, there is a view of the lakes of Sete Cidades that royals can only dream about. On the road behind, there is an abandoned hotel that never panned out for some reason. From here, you can walk along the top of the massive caldera rim wall down to the village of Sete Cidades. The total hike to the village and back is 10 miles, so it will require a few hours to complete the loop.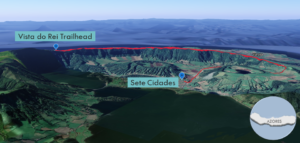 Directions to Trailhead
Head west onto EN1-1A. Just before Ponta Delgada, head northwest onto R1-1A and continue for 2.8 km. Take the exit toward Capelas, turn right, and drive another 2.8 km. Turn left onto M503 and continue 4.8 km. Make a right turn at ER 8-1A and drive 10.9 km. Turn left at ER 9-1A and continue for 950 m. Turn right at the parking area by the trailhead.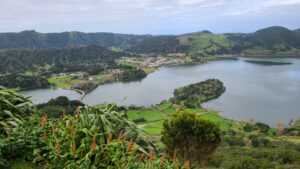 Trek Highlights
At Miradouro da Vista do Rei, you are on top of the Sete Cidades Massif, the remaining volcanic crater walls. You can see the lakes in the calderas and craters below. On the other side of the crater rim, you can see the Atlantic Ocean in the distance.
The trail follows the top of the crater rim. The path is safe with its high walls on each side. You can't tell they are walls because of the plants, such as the big round blue hydrangeas growing on top. The interesting thing to note is that as wild as this island seems, it has plenty of well-cultivated farmland. Every bit of land has been devoted to keeping the milk cows happy.
After about 3 miles, the curving path begins its descent into the crater. The path threads a couple calderas: the Caldeira do Alferes and the Caldeira Seca. The trail ends at the village of Sete Cidades at the banks of the Lagoa Azul.
Photos of Sete Cidades