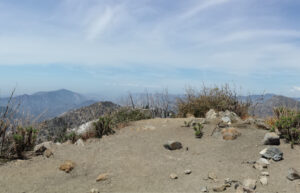 Objective: Summit San Gabriel Peak and Mt. Disappointment, San Gabriel Mountains, California
Distance: 4.34 miles (out and back)
Peak Elevation: San Gabriel Peak: 6,161′, Mt. Disappointment: 5,963′
Elevation Gain: 1,500′
Difficulty: Moderate
The first surveyors climbed Mt. Disappointment and were disappointed to find taller San Gabriel Peak. Hike to both summits in the front range. You will not be disappointed by the views.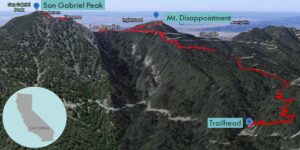 Directions to Trailhead
From the 210 East in La Cañada, drive 14 miles on Angeles Crest Highway (CA-2). Turn right at Mt. Wilson Red Box Road and continue past the Red Box area for 0.4 miles. Turn right at Mt. Disappointment Road (2N52). Park on the side, but do not block the gate.
Directions to Summit
Trailhead: From the parking lot, the trailhead is hard to spot and climbs up the hill before white gate. Do not cross the white gate or walk on the road.
1.25 miles: At the junction, turn left on Mt. Disappointment Road.
1.46 miles : At the junction, turn right at Mt. Disappointment Road to climb to the summit.
1.73 miles : You have reached Mt. Disappointment. Continue to San Gabriel Peak.
2 miles : At the junction, turn right.
2.08 miles : At the junction, turn left to climb to the summit.
2.44 miles : You have reached San Gabriel Peak. Turn around and head 1.9 miles back to the trailhead.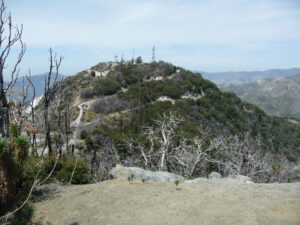 Trek Highlights
Mt. Disappointment Road almost doubles the distance of the Bill Riley Trail, so make sure you find the correct trailhead. The Bill Riley Trail quickly rises up a series of switchbacks and then eventually reconnects with the fire road. After about 200 yards, the trail reaches the saddle between the two peaks. Take the road on the right to the top of Mt. Disappointment. This side trip adds a total 0.54 miles to the journey. The summit has a helipad, communications towers, and remnants from the former Nike missile site.
Return to the saddle, pass the clearing, and follow the trail to the apex. This is the highest point in the front range of the San Gabriel Mountains. From the top, you have an amazing 360-degree view of the surrounding mountains.
Red Tape
Display your adventure pass.
Factoids
San Gabriel Peak was originally named "The Commodore" after Commodore Perry Switzer.
In 1894, USGS surveyors saw Mt. Disappointment from Santa Susana Mountain. They planned to use the summit as their next triangulation point since it appeared to be the area's highest point. At the summit, they were disappointed that San Gabriel Peak was higher, which meant relocating their instruments. In 1955, the summit was flattened for a Nike missile station. Ten years later, the missile site was abandoned, though military communications still use the peak.
Photos