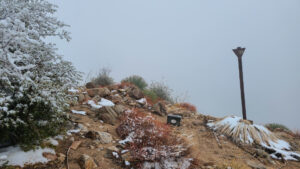 Objective: Summit Rattlesnake Peak, San Gabriel Mountains, California
Distance: 8.8 miles (out and back)
Peak Elevation: 5,826'
Elevation Gain: 4,400'
Difficulty: Strenuous
Goldilocks would be displeased with Rattlesnake Peak. Most of the time, it is too hot or too cold. With no shade, the sunlight is oppressive. The ridge is steep and if you veer off, the brush will hurt you. Climb the ridge anyway. It will build character and make you tougher.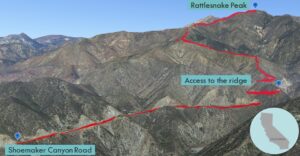 Directions to Trailhead
From the 210 E, exit on Azusa Avenue (CA-39). Drive north on Azusa Avenue about 12 miles. Turn right (east) on East Fork Road, cross the bridge, and go 3.4 miles. Turn left onto Shoemaker Canyon Road. Drive 3.2 miles to the end of the road. There is a parking area by the gate.
Directions to Summit
Trailhead: Pass the gate and hike up the road.
1.5 miles: Stop by the reflective posts. Turn left at a well-hidden use trail that leads up a ravine. Follow the ridge to the summit.
4.1 miles: You have reached Rattlesnake Peak. Turn around and head back.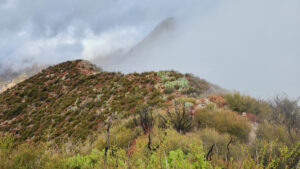 Trek Highlights
The hike begins on Shoemaker Canyon Road. At 1.5 miles, there are a couple reflective metal posts before a descent in the road. Look carefully to the left for a faint use trail. Make a big turn, leave the road, and climb up the really steep use trail. The trail wraps around a tiny ravine, flips another U, and rises higher to a western-leaning ridge. The slopes are covered with green spiky yucca and red buckwheat. The brush constricts the path and can scratch your legs.
In some spots, the dirt does not hold, and you slide back somewhat. Keep to the ridgelines, otherwise, you will have nightmares of battling the branches and dirt. After the ridge connects with the southern ridge, a little dip is followed by the steepest incline of the hike. A big bump is at the top of the incline. The narrow ridge becomes rocky and hands are occasionally required to negotiate the narrow sections. There are steep drop-offs on both sides, with Graveyard Canyon to the west and Shoemaker Canyon and Rattlesnake Canyon to the east.
There is one more dip and another climb to a small bump. The southern ridge ascends straight to the summit. The ridge eventually merges with Hawkins Ridge to the northwest. You can view Iron Mountain to the east and Mt. Baldy behind it. Resist the urge to ride the summit post like a broom at Hogwarts Castle.
Red Tape
Display your adventure pass.
Caution
Make sure you stick to the trail. Leaving the path can mean battling harsh terrain and skidding down insane grades. Getting stuck means life threatening conditions that are either too hot or too cold.
Bring lots of water in the summer.
Photos