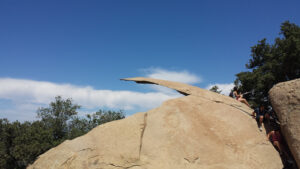 Objective: Summit Woodson Mountain (Potato Chip Rock), San Diego, California
Distance: 7.5 miles (out and back)
Peak Elevation: 2,896′
Elevation Gain: 2,101′
Difficulty: Moderate
Caution: Bring plenty of water and sunscreen as this trail has little shade
People have always observed interesting shapes occurring in nature. Eagles, skulls, and hearts are always popular, but what about junk food? Potato Chip Rock, on Woodson Mountain, is wildly popular. After a decent hike, reward yourself with an hour-long wait to Selfie Central. During your turn, do something weird on the potato chip stage, which looks like it is about to break off.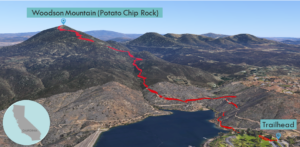 Directions to Trailhead
From the I-5 S, exit 51B toward Escondido/Vista Way and merge onto CA-78. Go16.4 miles and merge onto the I-15 S. Go 7.8 miles and exit Rancho Bernardo Road. Turn left on Exit Rancho Bernardo Road and drive 1.7 miles. Make a right on Espola Road and go 2.4 miles. Turn left on Lake Poway Road and continue 0.6 miles. The trailhead is at the end of the parking lot on the left.
Directions to Summit
Trailhead: Start hiking on the Mount Woodson Trail, which takes you all the way to the top.
1.7 miles: There is a large flat clearing with nice views of some of the homes.
3.65 miles: You have arrived at Potato Chip Rock.
3.9 miles: The summit is located somewhere among the broadcast towers.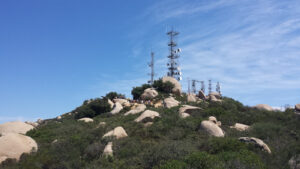 Trek Highlights
The trail clings to the southern shore of Lake Poway. There are usually a handful of boats lollygagging along the tranquil water. The route is wide, steep, and steady the entire way up. At 1.7 miles, you reach a large flat clearing with nice views of the surrounding homes. The trail levels off for a bit. Soon, you see large granite boulders and blooming yucca plants. It is at this point that the trail becomes extremely steep as you climb this giant stone staircase and turn frequently around the switchbacks. In the middle of this incline is a glorious oak tree with the best shade on the hike. Many people like to rest here and soak in the views, but you should probably chug ahead as the hard work isn't quite over. Once you get past this difficult section, the trail ascends the slope in a gentle straight line.
Near the top, there is a 30-minute line at Potato Chip Rock. This photogenic social media darling is a thin slab of protruding granite that has eroded such that it resembles a potato chip. Naturally, this has become the epicenter of an obligatory photo shoot, and the photos evoke a mix of creativity and cheesiness. Popular photos include people sitting on the edge, jumping, and pretending to fall.
Red Tape
Parking is $5.
Photos