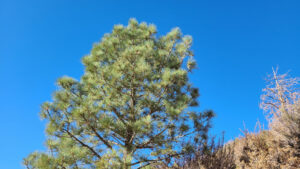 Objective: Summit Pinyon Ridge, San Gabriel Mountains, California
Distance: 6.42 miles (out and back)
Peak Elevation: 6,535'
Elevation Gain: 1,100'
Difficulty: Easy
The hike down to Pinyon Ridge is a nice post-holiday hike. It is for when you want to move, but not too much.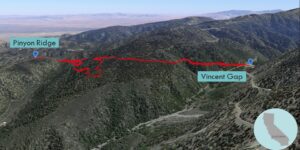 Directions to Trailhead
From 210 E, merge onto 15 N. Drive 14.8 miles. Take exit 131 for CA-138 W. Turn left onto CA-138 W and continue for 8.6 miles. Turn left onto CA-2 W and drive 13.9 miles. At Vincent Gap, there are parking lots with access to several trails and a toilet. The trailhead is at the northwestern corner of the lot.
Directions to Summit
Trailhead: From Vincent Gap, the hike begins on the Pinyon Ridge Truck Trail. (This is the center trail north of Angeles Crest Highway.)
0.93 miles: At the junction, keep left to stay on the trail.
2.86 miles: At the junction, turn left to stay on the trail.
2.87 miles: At the junction, turn right to stay on the trail.
3.21 miles: You have reached Pinyon Ridge. Turn around and head back.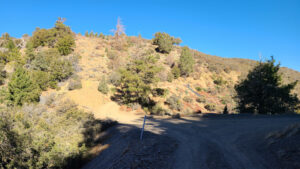 Trek Highlights
Vincent Gap is a high narrow passage between Mt. Baden Powell and Blue Ridge. There is a little climb at the start.
At the junction for Jackson Lake, turn left to stay on Pinyon Ridge Trail. You immediately lose the elevation you have just gained, and eventually end up lower than where you started. There is some pink fire retardant, Phos-Chek, that has been dropped along a section of the slope.
At Fenner Saddle, the trail passes consecutive junctions. From there, the trail slightly rises to the high point. There are no views from the "summit," if you can really call it that, just road in front and behind. The pine trees block everything and there is not much of a view.
Red Tape
Display your adventure pass.
Photos