Objective: Hike to Parker Mesa Overlook, Santa Monica Mountains, California
Distance: 7.2 miles (out and back)
Peak Elevation: 1,525′
Elevation Gain: 1,372′
Difficulty: Moderate
Los Liones Trail gently rises from a canyon and follows a ridge to Parker Mesa Overlook. This vista, in the foothills of the Santa Monica Mountains, has a commanding view of Santa Monica Bay. It sits above Parker Canyon and Parker Mesa.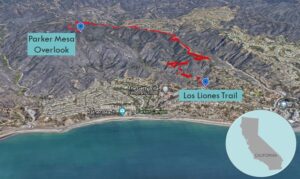 Directions to Trailhead
From Santa Monica, head north on PCH. Turn right on Sunset Boulevard. Turn left onto Los Liones Drive. The trailhead is at the bend in the road.
Directions to Overlook
Trailhead: Start hiking on the Los Liones Trail.
1.3 miles: Turn left onto the East Topanga Fire Road.
3 miles: Turn left onto the Parker Mesa Overlook Trail.
3.56 miles: Turn right to head to Parker Mesa.
3.6 miles: You have reached Parker Mesa Overlook. Turn around and head back.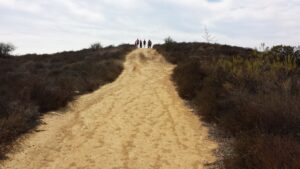 Trek Highlights
The Los Liones Trail begins in a small canyon in Topanga State Park, north of Pacific Palisades. It quickly leaves behind the mansions inching their way up the ridges. The canyon is lush with many overhanging trees. The wide sandy trail follows the ridge to a plateau, where you can view the ocean. Soon, the path turns into a fire road leading straight to Parker Mesa Overlook.
Take a seat at your throne, um, bench at the top. Survey the Santa Monica Bay and the curving coastline. Look south to Santa Monica and east to Malibu.
Photos