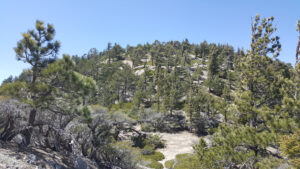 Objective: Summit Pallett Mountain, San Gabriel Mountains, California
Distance: 9 miles (out and back)
Peak Elevation: 7,760′
Elevation Gain: 4,000′
Difficulty: Strenuous
Pallett Mountain may be one of the northernmost peaks in the back range of the San Gabriels. It is much closer to Antelope Valley than the Los Angeles basin. The hike covers some tough terrain, through one little dip and another massive ravine.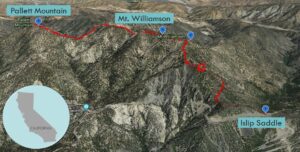 Directions to Trailhead
From the 210 East in La Cañada, drive 40 miles on Angeles Crest Highway (CA-2), past two tunnels. Park in the large parking lot at Islip Saddle on the left (north).
Directions to Summit
Trailhead: From the west end of the parking lot, head northwest on the Pacific Crest Trail (PCT).
0.5 miles: The trail bends to the northeast.
1.1 miles: The trail makes a 180 degree turn and then follows a couple switchbacks.
1.6 miles: There are PCT posts marking the trail junction at the saddle. Turn right and head northeast along the use trail that follows the ridge.
2.1 miles: A spur trail heads to the Mt. Williamson summit with an elevation at 8,214′.
2.4 miles: Keep going northwest along the ridge. You will reach the "true" Mt. Williamson summit with an elevation at 8,244′.
3.4 miles: At this trail junction, keep going straight (west).
4.5 miles: You have reached Pallett Mountain. Turn around and head back.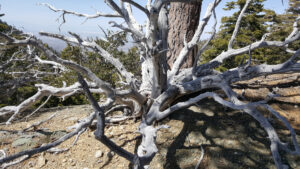 Trek Highlights
The first section of the hike is a wiggly spaghetti strand that hugs the slopes around Bear Creek Canyon. Once you reach the PCT sign, a use trail rises past the two Mt. Williamson peaks.
The ridge by the second Williamson peak has some sketchy spots due to snow and boulders. Pleasant View Ridge descends almost 1,000 ft. and immediately climbs the edge of Boxcar Ridge. The trail grows faint again and the next thing you know, you are looking at a sharp ravine in front of Pallett Mountain. Look for a mild grade in the ravine, cross the stream, and then climb up the side of the slope to gain the ridgeline. The climb to Pallett is never-ending, one false summit bump after another.
Red Tape
Display your adventure pass.
Factoids
The Pallett family left Tennessee for California around 1857. George Pallett and his wife Nancy settled on a 900-acre ranch in Los Angeles County. Their ranch in Rivera (later merged into Pico-Rivera) had the largest walnut grove in the state. Some of their daughters were teachers (including Emma Pallett) and their sons and grandsons worked at the ranch.
Photos