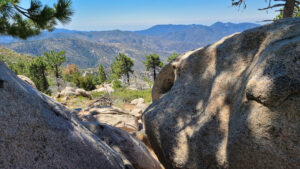 Objective: Summit Pacifico Mountain, San Gabriel Mountains, California
Distance: 13.4 miles (out and back)
Peak Elevation: 7,124′
Elevation Gain: 2,208′
Difficulty: Strenuous
Pacifico Mountain is the largest peak in the western San Gabriels. Follow the PCT on a long beautiful route that gently climbs to the summit.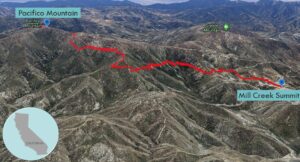 Directions to Trailhead
From the intersection of I-210 and Angeles Crest Highway (CA-2), drive north on CA-2 9.5 miles to Angeles Forest Highway. Turn left (north). Drive 14.2 miles to Mill Creek Summit. Park at the picnic area on the south side of the highway.
Directions to Summit
Trailhead: From the southeast corner at the start of Pacifico Mountain Road, hike east on the Pacific Crest Trail (PCT).
3.8 miles: At the junction, keep left to stay on the PCT.
5.4 miles: At the junction, turn right onto Pacifico Mountain Summit Road.
6.7 miles: You have reached the summit. Turn around and head back.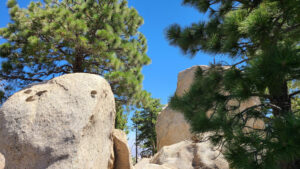 Trek Highlights
The Pacific Crest Highway rises above the Angeles Forest Highway and below some buzzing power lines. The ground is covered by chaparral, toyon, and manzanita. Even at the start of the hike, it is warm, yet nice and cool at the v-shaped drainages.
This is a decidedly Laker friendly path with purple and gold flowers. The air is fragrant and smells like a cup of tea. Chipmunks and lizards scurry away. A young buck darts up the hill from out of the bushes.
Leopard spot hills flatten out to the north in Antelope Valley. There are some shady parts on the western flank before noon. At narrow sections, watch out for prickly holly leaves, spiky yucca, and beautiful toxic poodle dog bushes.
After some mild switchbacks, the trail reaches Pacifico's ridge, which looks like an inviting sandy carpet has been unfurled for you. At the 6-way junction, you can take a short and steep route or a more gradual path that swings around the summit. Pacifico Mountain Summit Road, aka pine cone alley, is a wide trail straight to the top. After a final bend, there is a beautiful campground with a flat summit block and plenty of trees and shade. There is a collection of giant boulders at the summit, where you can practice bouldering. From a looping path, you can see the Antelope Valley as well as the front range of the San Gabriels.
Red Tape
Display your adventure pass.
Photos