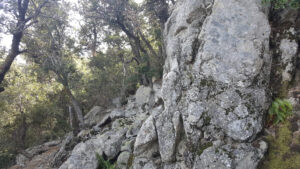 Objective: Summit Occidental Peak, San Gabriel Mountains, California
Distance: 2 miles (out and back)
Peak Elevation: 5,732′
Elevation Gain: 400′
Difficulty: Moderate
A rough use trail takes you through a forested ridge next to a broadcast station's transmission site. The main challenges are finding the starting point and not veering off course.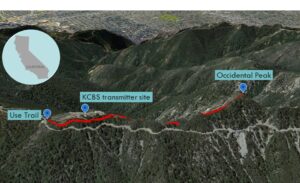 Directions to Trailhead
From the 210 East in La Cañada, drive 14 miles on Angeles Crest Highway (CA-2). Turn right at Mt. Wilson Red Box Road and continue past the Red Box area for 3.8 miles. On the left is a parking area 200′ before a driveway to a broadcast station transmitter site. Cross the street and find a faint use trail.
Directions to Summit
Trailhead: Follow the use trail heading to the start of a broadcast station transmitter site's fence. The use trail follows the fence westward to the end of the transmitter site.
0.3 miles: At the end of the fence, pass the helipad and take the ridge trail to the summit.
1 mile: You have reached Occidental Peak. Turn around and head back.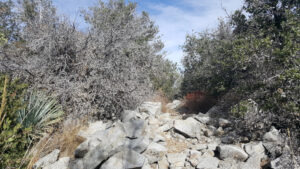 Trek Highlights
From the roadside, look very carefully for a faint, steep use trail climbing toward the transmitter site fence. Keep the fence to your south as you head west to avoid getting lost. The use trail is a bit overgrown and there are competing paths, so you need to stay vigilant.
The trail is a narrow and undulating route. The path is covered with yellow-brownish oak leaves, acorns, pine needles, pine cones, and twigs. There is even a mini-Christmas tree along the way.
Eventually the path meets a corner of the fence and soon climbs to the ridge. There is a helipad with great views of the Los Angeles basin, the Santa Monica Mountains, and the ocean. The trail then descends and stays roughly parallel and 20 feet below the ridgeline to the south.
Near the top, there are a couple boulder piles. At the summit, there is a small clearing with some rocks surrounded by trees. At a little opening to the east, you have a marvelous view of Mt. Wilson.
Red Tape
Display your adventure pass.
Factoids
The peak is at the western edge of what was known as Knifeblade Ridge. It was also once named Precipio Peak because of its position above Precipio (Eaton) Canyon. In 1915, Occidental College students built a trail from Mt. Wilson to the summit. Rush Charlton, Supervisor of the Angeles National Forest, named the peak after their school as a reward for their efforts.
Photos