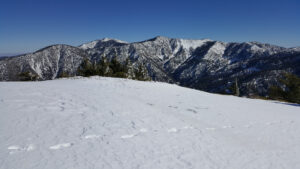 Objective: Summit Mt. Williamson, San Gabriel Mountains, California
Distance: 5 miles (out and back)
Peak Elevation: 8,244′
Elevation Gain: 1,604′
Difficulty: Moderate
The Pacific Crest Trail quickly climbs a steep route until you reach the southern ridge of Mt. Williamson. A use trail hugs the ridge to the top. At the summit, there are higher bumps to the northwest on Pleasant View Ridge if you wish to keep exploring.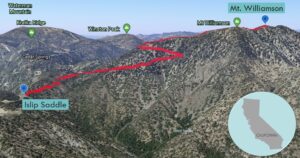 Directions to Trailhead
From the 210 East in La Cañada, drive 40 miles on Angeles Crest Highway (CA-2), past two tunnels. Park in the large parking lot at Islip Saddle on the left (north).
Directions to Summit
Trailhead: From the west end of the parking lot, head northwest on the Pacific Crest Trail (PCT).
0.5 miles: The trail bends to the northeast.
1.1 miles: The trail makes a 180 degree turn and then follows a couple switchbacks.
1.6 miles: There are PCT posts marking the trail junction at the saddle. Turn right and head northeast along the use trail that follows the ridge.
2.1 miles: A spur trail heads to the Mt. Williamson summit with an elevation at 8,214′.
2.4 miles: Keep going northwest along the ridge. You will reach the "true" Mt. Williamson summit with an elevation at 8,244′. Turn around and head back.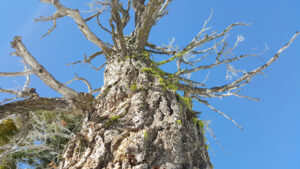 Trek Highlights
The PCT swiftly ascends from Islip Saddle and then gently turns to wrap around the eastern face of the mountain. As the path rises, the trail becomes extremely narrow and is somewhat diagonal and indistinguishable with the sheer slope on the right. After a sharp turn, follow a couple switchbacks to the saddle, where there are a couple PCT posts. A steep use trail on the right follows the northern ridge up to the summit. There are a couple of extremely steep and slippery stretches. Standing upon the apex affords sweeping views of the Antelope Valley and the giant rift of the San Andreas fault.
There seems to be some disagreement regarding the true location of the peak. Some sources claim the first bump at 8,214′, while others claim the second bump at 8244′. You will need to pick one or the other. Or just climb both.
In the winter, most of the trail is covered in powdery snow or ice. After the tree limbs shake off their icy burdens, the ground is covered in shattered chandelier crystals that resemble fossilized wooly mammoth teeth. The icy patches on the trail are both a bane and a boon. While you should tread carefully to avoid sliding down the slope, when you stomp on the crunchy ice waffles formed from prior bootprints, it is pure joy.
Red Tape
Display your adventure pass.
Factoids
Lieutenant Robert Stockton Williamson was a US Army topographical engineer. Williamson made a reconnaissance of the north side of the San Gabriel Mountains for the Pacific Railroad Survey in 1853.
Photos