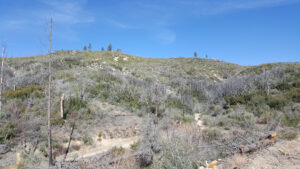 Objective: Summit Mt. Mooney, San Gabriel Mountains, California
Distance: 2 miles (out and back)
Peak Elevation: 5,840′
Elevation Gain: 422′
Difficulty: Easy
This is a short hike through poisonous poodle buses, burned silver tree trunks, fallen trees, and a fire road. Mt. Mooney is in an intermediate area between the front and back ranges of the San Gabriels. Hike this with Vetter Mountain across the street.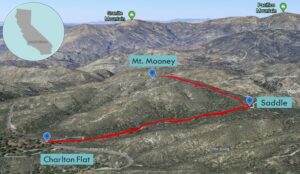 Directions to Trailhead
From the 210 East in La Cañada, drive 23 miles on Angeles Crest Highway (CA-2). After passing the Charlton Flat Picnic Area, continue 100 yards farther to a paved road on the right. Turn right (north). Keep right at an immediate fork. Park on the left before the dirt road. Do not drive on the dirt road unless you have a high clearance vehicle.
Directions to Summit
Trailhead: Follow the Mt. Mooney Truck Trail.
0.64 miles: At the saddle, turn left toward the water tank and head up the fire road to the top.
1 mile: You have reached Mt. Mooney. Turn around and head back.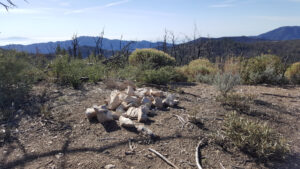 Trek Highlights
The Mt. Mooney Truck Trail is rather even, exposed, and wide. Follow the Mt. Mooney Truck Trail until you reach a wide flat saddle. At the saddle, once you start climbing on the fire road beyond the water tank, you soon encounter fallen log obstacles that barricade the path and require you to go up and over. Besides leaping over and limboing under burnt branches, you need to wriggle carefully around poisonous poodle bushes. Just below the apex is a handful of silver tree trunk sentinels. There is a pile of stones at the peak marking the summit.
Red Tape
Display your adventure pass.
Factoids
Joseph Mooney was a young Forest Service telephone lineman and ranger in the Angeles National Forest.
Photos