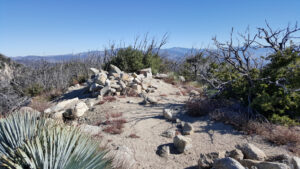 Objective: Summit Mt. Markham, San Gabriel Mountains, California
Distance: 3.2 miles (out and back)
Peak Elevation: 5,742′
Elevation Gain: 628′
Difficulty: Easy
The hike to Mt. Markham goes through Mueller Tunnel and hugs Mt. Markham's western flank. From the summit, you can peer into LA.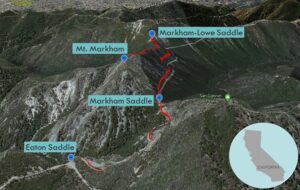 Directions to Trailhead
From the 210 East in La Cañada, drive 14 miles on Angeles Crest Highway (CA-2). Turn right at Mt. Wilson Red Box Road and continue past the Red Box area for 2.3 miles. Park by the bend in the road, near the Eaton Saddle trailhead.
Directions to Summit
Trailhead: From Eaton Saddle, follow the Mt. Lowe Trail.
0.27 miles: Continue through Mueller Tunnel.
0.5 miles : At Markham Saddle, keep left onto Mt. Lowe Trail, bypassing the San Gabriel Peak Trail.
1.13 miles : At the saddle between Markham and Lowe, make a sharp left (a U-turn to head northeast).
1.43 miles : At this point, there is some Class 2 bouldering.
1.5 miles : The summit is at the northeast end of the plateau. Continue following the use trail along the ridge.
1.6 miles : You have reached Mt. Markham. Turn around and head back.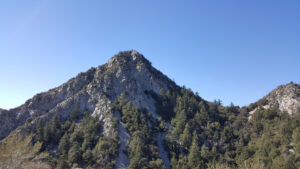 Trek Highlights
From Eaton Saddle, the Mt. Lowe Trail curves around a ravine until it passes through Mueller Tunnel.
The trail reaches Markham Saddle after passing a water tank. There is a trail on the right for Mt. Disappointment and San Gabriel Peak. Continue straight ahead and turn left on the fork onto the Mount Lowe Trail, which starts at this saddle. The trail rises along Mt. Markham's northwest slope.
Follow the trail to the Markham-Lowe saddle. The trail ahead continues up Mt. Lowe. At the saddle, make a sharp left (to head northeast) and follow the ridge to the summit. After the first 30 feet or so, the trail on the ridge becomes clear. After some rough trail, there is a section of very steep switchbacks that quickly turns into some Class 2 bouldering. The peak offers views of Mt. Wilson, Mt. Lowe, Mt. Disappointment, and San Gabriel Peak.
Red Tape
Display your adventure pass.
Factoids
The peak was once known as "Square Top" or "Table Mountain." In the 1890s, Professor Lowe and other prominent Pasadena citizens named it in honor of Henry H. Markham. Markham was a Pasadena citizen and Governor of California from 1891 to 1895.
Photos