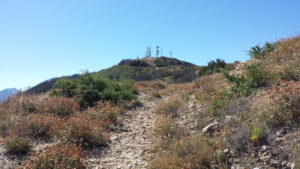 Objective: Summit Mt. Lukens, San Gabriel Mountains, California
Distance: 8.2 miles (out and back)
Peak Elevation: 5,074′
Elevation Gain: 3,272′
Difficulty: Strenuous
Mt. Lukens is the tallest mountain in LA. After crossing Big Tujunga Creek at the start, the trail is an unswerving incline up Stone Canyon.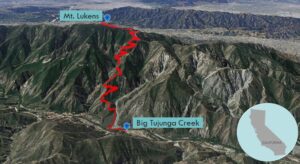 Directions to Trailhead
From the CA-2 in La Cañada, head west on the 210 for 7 miles. Exit on Sunland Blvd (11) and turn right. Turn left onto Oro Vista Avenue. Continue onto Big Tujunga Canyon Road for 5.4 miles. Turn right onto Doske Road. Doske Road turns slightly left and becomes Stonyvale Road. There is a parking lot at the end of the road.
Directions to Summit
Trailhead: From the trailhead at the eastern end of the Wildwood picnic area, a post marks the beginning of the Stone Canyon Trail.
3.1 miles: The trail climbs switchbacks until you reach the junction to the Sister Elsie Trail leading down Haines Canyon. Keep left to follow the Stone Canyon Trail as it climbs up to the summit ridge.
3.8 miles: The trail heads east on the ridge and meets a fire road. Follow the fire road until you reach the summit area covered with radio antennas.
4.1 miles: You have reached Mt. Lukens. Turn around and head back.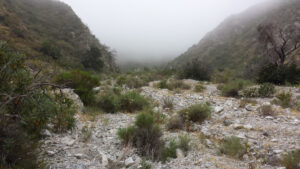 Trek Highlights
The entire trail is extremely exposed to the sun and overgrown, so bring appropriate sun protection and long pants. From the trailhead in Big Tujunga Canyon, stay to the right of the metal beams. Follow the lower trail until it ends and turns off to Big Tujunga Creek. There are plenty of stones for an easy crossing.
Once on the south side of the creek, turn immediately to the left and get back on the trail. The trail will eventually turn sharply up Stone Canyon. (It is essential that you take the well maintained trail to the left and above the creek in order to avoid scrambling.) You will see a little rest area on your right. Stone Canyon Trail heads south, under power lines, and up the eastern side of Stone Canyon.
The trail then leaves Stone Canyon and drops a bit to the southeast into another canyon. The trail ascends switchbacks on the western side of the canyon. Here, the trail gets tight and you have to squeeze through lots of brush. Once you reach the ridge, the trail climbs up to the microwave tower covered peak. From the top, you have an excellent views of the Verdugo Mountains and cityscape below.
Red Tape
Display your adventure pass.
Factoids
Theodore Lukens was a former supervisor of the Angeles National Forest and later, the mayor of Pasadena, California. Previously, the mountain was known as Sister Elsie Peak. It has been said that she was a Catholic nun who died while caring for the sick during a smallpox epidemic.
Photos