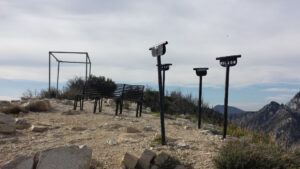 Objective: Summit Mt. Lowe, San Gabriel Mountains, California
Distance: 3.2 miles (out and back)
Peak Elevation: 5,603′
Elevation Gain: 494′
Difficulty: Easy
The hike to Mt. Lowe goes through Mueller Tunnel and hugs the western flank of Mt. Markham. At the top of Mt. Lowe, there are labeled viewing tubes pointing to the neighboring peaks.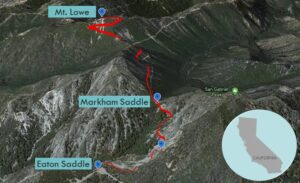 Directions to Trailhead
From the 210 East in La Cañada, drive 14 miles on Angeles Crest Highway (CA-2). Turn right at Mt. Wilson Red Box Road and continue past the Red Box area for 2.3 miles. Park by the bend in the road, near the Eaton Saddle trailhead.
Directions to Summit
Trailhead: From Eaton Saddle, follow the Mt. Lowe Trail.
0.27 miles: Continue through Mueller Tunnel.
0.5 miles : At Markham Saddle, keep left onto Mt. Lowe Trail, bypassing the San Gabriel Peak Trail.
1.13 miles : At the saddle between Markham and Lowe, continue going straight, bypassing the path to Markham.
1.3 miles : Make a sharp right turn at the junction.
1.5 miles : Turn left and take the trail to the peak.
1.6 miles : You have reached Mt. Lowe. Turn around and head back.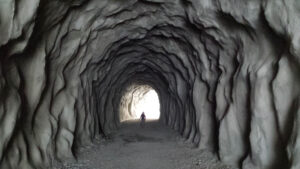 Trek Highlights
From Eaton Saddle's gate, the Mt. Lowe Trail quickly reaches Mueller Tunnel, which was built to bypass the Cliff Trail. The views of the canyons and ravines are incredible from the trail's edge. After passing a water tank at Markham Saddle, the trail rises along Mt. Markham's northwestern slope. At the Markham-Lowe saddle, keep heading toward Mt. Lowe. At the next junction, the trail to the sharp right keeps climbing. Mt. Lowe's zenith is topped with a flagpole, hitching post, cage structure, and viewing tubes pointing to nearby peaks.
P.S. The Mt. Lowe Railway is yet another example of thwarted dreams in Los Angeles. Professor Lowe envisioned a network of trains, trolleys, hotels, chalets, tennis courts, stables, and a zoo that would have been a "White City in the Sky" above Altadena and Pasadena. However, wind, fire, and flooding led to the demise of this dream.
Red Tape
Display your adventure pass.
Factoids
Professor Thaddeus S.C. Lowe was the first man to set foot on and plant the American flag at this peak. He built the Mount Lowe Railway in 1896. Mt. Lowe was established as an alternate route for the Mount Lowe Railway when attempts to procure rights of way to the more prominent Mt. Wilson had failed.
Photos