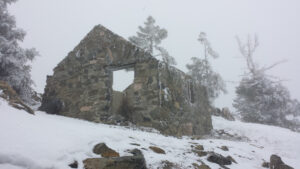 Objective: Summit Mt. Islip, San Gabriel Mountains, California
Distance: 7 miles (out and back)
Peak Elevation: 8,250′
Elevation Gain: 2,400′
Difficulty: Strenuous
Mt. Islip is in a remote position in the back range of the San Gabriel Mountains. The mountains are taller, the paths are steeper, and the drives to the trailhead are longer. With its rugged terrain and cold climate, the trails here are hardly used.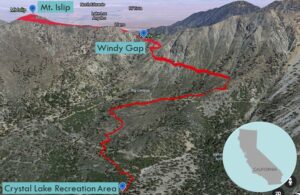 Directions to Trailhead
From the 210 East, exit and head north on Azusa Ave, which becomes San Gabriel Canyon Road (CA 39). Drive 24 miles to the Crystal Lake Recreation Area turnoff. Drive 0.5 miles past the visitor center to the main hiker's parking lot.
Directions to Summit
Trailhead: From the Crystal Lake Recreation Area trailhead, start hiking on the Windy Gap Trail. Do not hike in the wash.
1 mile: Cross the truck trail twice and go up the slope.
2.6 miles: At the PCT junction, keep left (northwest) to stay on the Windy Gap Trail.
2.8 miles: At the Mt. Islip junction, turn left onto the Mt. Islip Trail.
3.5 miles: You have reached Mt. Islip. Turn around and head back.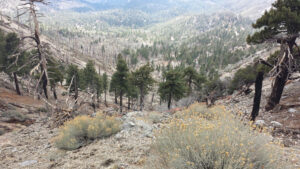 Trek Highlights
The trail begins by some campsites and soon rises high above the Crystal Lake Basin. Once you reach the ridge at Windy Gap, you can see a rapid current of air pushing the fog over the pass.
In the winter, the wind is frigid and possibly accompanied by hail that hits your face. After trudging through some snow-covered patches, there is a brief respite on the south side of the ridge, where you can warm up your reddened knuckles and cheeks. After the final turn, you see the summit hut remnants. The plants are dusted with frost and the underside of the tree branches sag a bit with the accumulated snow.
Red Tape
Display your adventure pass.
Factoids
Mount Islip is named for George Islip, who settled around 1880 in Angeles National Forest. There was at one time a fire lookout on the summit. The hut foundation on the summit is a remnant.
Photos