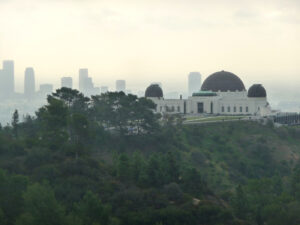 Objective: Summit Mt. Hollywood, Santa Monica Mountains, California
Distance: 3 miles (out and back)
Elevation Gain: 473'
Difficulty: Easy
Griffith Observatory rests on the southern slope of Mt. Hollywood in Griffith Park. The Charlie Turner Trail climbs from the Griffith Observatory parking lot to the top of Mt. Hollywood. From the overlook, you have a commanding view of the observatory, Hollywood, Downtown Los Angeles, the Pacific Ocean, and perhaps the entire Los Angeles Basin.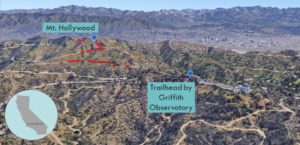 Directions to Trailhead
From Los Feliz Boulevard, head north on N. Vermont Avenue, which becomes N. Vermont Canyon Road. Drive 0.1 miles to the Greek Theatre, which is the last spot for free parking. Walk about a mile to the Griffith Observatory parking lot. The Charlie Turner Trailhead is at the rear (northern end) of the lot.
Directions to Summit
Trailhead: Start hiking on Charlie Turner Trail.
0.2 miles: At the junction, keep left.
1 mile: At the junction, make a sharp left turn.
1.3 miles: At the junction, make a sharp right turn.
1.5 miles: You have reached the overlook. Turn around and head back.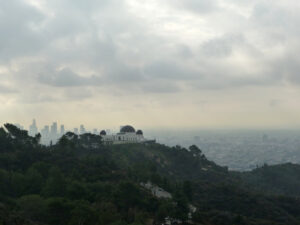 Factoids
In 1896, Griffith J. Griffith donated 3,015 acres of Rancho Los Feliz to Los Angeles. The land became Griffith Park. Seven years later, Griffith shot his wife in the head. His wife survived and he served two years in prison.
Charlie Turner volunteered at Griffith Park in the 1970s.