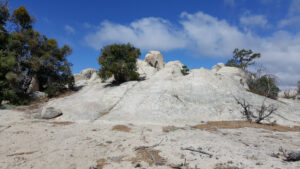 Objective: Summit Mt. Hillyer, San Gabriel Mountains, California
Distance: 1.2 miles (out and back)
Peak Elevation: 6,200′
Elevation Gain: 269′
Difficulty: Easy
If you want a quick walk after a visit to the Newcomb's Ranch roadhouse, hike to the top of Mt. Hillyer.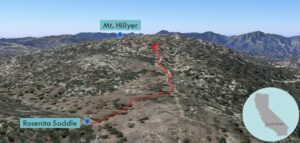 Directions to Trailhead
From the 210 East in La Cañada, take the Angeles Crest Highway (CA-2) for 26.5 miles to the intersection with Sulphur Springs Road (Three Points). Turn left (north) and drive 2.8 miles to a parking area on the left side of the road.
Directions to Summit
Trailhead: From Rosenita Saddle, follow the Mt. Hillyer Trail.
0.51 miles: After a slight incline through a meadow, the trail passes by a pile of rocks on the summit before turning left.
0.6 miles: You have reached Mt. Hillyer. Turn around and head back.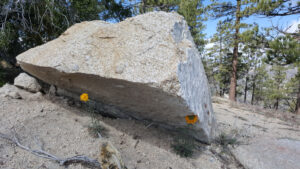 Trek Highlights
No disrespect here, but the real reason this mountain is named Mt. Hillyer is because it is more of a hill than a mountain. From Rosenita Saddle to the top, it is a leisurely stroll past purple, yellow, red, and blue wildflowers. The trail meanders past lovely grasslands and then dashes up for a brief moment. The summit plateau is covered with a bunch of rock piles, one of which presumably contains the highpoint.
Red Tape
Display your adventure pass.
Factoids
Tiburcio Vásquez was a horse rustler who stashed horses at Horse Flats by Chilao. His nickname was Chillia, hot stuff, for killing a bear using only a knife. He set up a hideout among the boulders at the top.
Photos