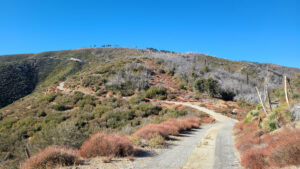 Objective: Summit Mt. Gleason, San Gabriel Mountains, California
Distance: 18.4 miles (out and back)
Peak Elevation: 6,502'
Elevation Gain: 2,490′
Difficulty: Strenuous
If you like walking on abandoned roads on a long ridgeline, then the hike to Gleason may be for you. It is nice being able to see your route many miles ahead. Due to the length of the hike and the heat, the path is secluded.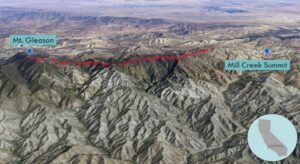 Directions to Trailhead
From the intersection of I-210 and Angeles Crest Highway (CA-2), drive north on Angeles Crest Highway 9.5 miles. Turn left (north) onto Angeles Forest Highway and drive 14.2 miles to Mill Creek Summit. Park at the picnic area on the south side of the highway.
Directions to Summit
Trailhead: Begin hiking north on Mt. Gleason Road / Forest Service Road 3N17.
6.6 miles: At the junction, make a slight left to stay on the road.
8.8 miles: Turn right and follow the road northwest to the summit.
9.2 miles: You have reached Mt. Gleason. Turn around and head back.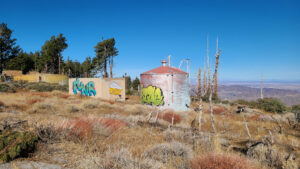 Trek Highlights
Right from the gate, the paved road ascends a corner and levels off after a couple miles. The road is parallel to, or perhaps entangled with, the Pacific Crest Trail, on a straight and wide ridge. The slope consists of crumbly beige sedimentary rock somewhat held together by chaparral with the occasional yucca stalk. On a nearby ridgeline, there is a line of trees that seem to march to the top. Over here, there are a dozen pine trees scattered about.
At 4.6 miles, there is a communication shed at the top of the drainage. Five and a half miles from the trailhead, you begin a casual couple-mile descent to a saddle. At 6.2 miles, take the left fork, where the road turns to dirt.
Upon reaching the saddle, the final ascent begins just as the wind starts to pick up. About half a mile from the summit, turn right at the junction and go around the gate. At the last stretch, poodle dog bushes are growing through the cracks in the asphalt. The summit top was once used as a Nike missile radar site.
Red Tape
Display your adventure pass.
Photos