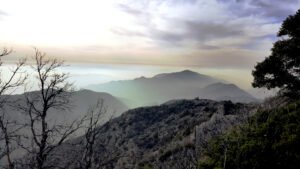 Objective: Summit Mt. Deception, San Gabriel Mountains, California
Distance: 4.75 miles (out and back)
Peak Elevation: 5,796′
Elevation Gain: 1,100′
Difficulty: Easy
Mt. Deception forms the western edge of a ridge that crosses San Gabriel Peak and Occidental Peak until reaching Mt. Wilson to the east. This front range ridge of the San Gabriels forms the backdrop that you see in landscape shots of Los Angeles. Climb Mt. Deception as a short walk or add other peaks along the ridge for more of a challenge.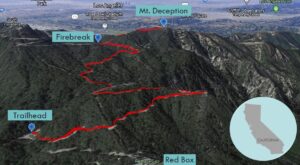 Directions to Trailhead
From the 210 East in La Cañada, drive 14 miles on Angeles Crest Highway (CA-2). Turn right at Mt. Wilson Red Box Road and continue past the Red Box area for 0.4 miles. Turn right at Mt. Disappointment Road (2N52). Park on the side, but do not block the gate.
Directions to Summit
Trailhead: From the white gate, hike up the fire road.
2 miles: At the ridge before the metal railing, turn right to leave the road and climb a steep firebreak.
2.375 miles : You have reached Mt. Deception. Turn around and head back.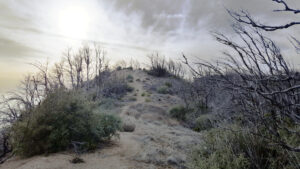 Trek Highlights
The route is mostly on a fire road. At the shoulder, you head west up a steep fire break until you reach the ridge. After some slight undulations, you reach the summit.
Red Tape
Display your adventure pass.
Photos