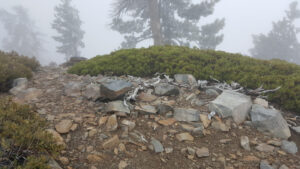 Objective: Summit Mt. Burnham, San Gabriel Mountains, California
Distance: 6.4 miles (out and back)
Peak Elevation: 8,997′
Elevation Gain: 2,100′
Difficulty: Moderate
Mt. Burnham is on one of the highest ridges in the back range of the San Gabriels. The Pacific Crest Trail follows this ridge from Mt. Baden-Powell to Mt. Hawkins, with Mt. Burnham and Throop Peak in between.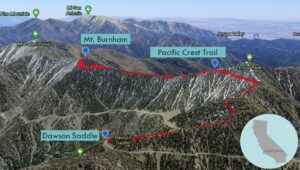 Directions to Trailhead
From the 210 East in La Cañada, take the Angeles Crest Highway (CA 2) for 44.8 miles to Dawson Saddle. Park in the large parking lot on the left (north).
Directions to Summit
Trailhead: Hike east down the highway to where the Dawson Saddle Trail starts on the right (south) side.
1.8 miles: At the junction, turn left (northeast) onto the Pacific Crest Trail (PCT).
3.1 miles: Leave the trail and go straight up to the summit.
3.2 miles: You have reached Mt. Burnham. Turn around and head back.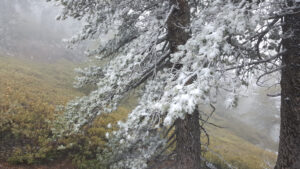 Trek Highlights
From Dawson Saddle, the Dawson Saddle Trail climbs a ridge to the Pacific Crest Trail just northeast of Throop Peak. The PCT heads east along a key ridgeline of the back range of the San Gabriel Mountains. When you are directly north of Mt. Burnham, briefly scramble off trail to reach the summit.
In June, at this elevation, the tree branches are still covered in ice and snow. Every once in a while, tiny translucent shingles shudder off the branches in waves. The falling snow sounds like sand and pebbles gently sliding down a cloth tarp.
Red Tape
Display your adventure pass.
Factoids
Frederick Russell Burnham was an American military scout who taught scoutcraft to Robert Baden-Powell. He was one of the inspirations for scouting.
Photos