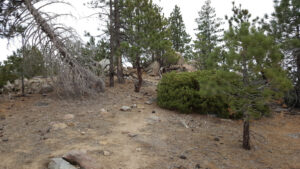 Objective: Summit Mt. Akawie, San Gabriel Mountains, California
Distance: 1.5 miles (out and back)
Peak Elevation: 7,283′
Elevation Gain: 400′
Difficulty: Easy
The hike to Mt. Akawie is just a leg stretcher. It can be combined with separate hikes to Kratka Ridge, Winston Peak, and Winston Ridge.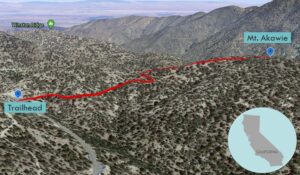 Directions to Trailhead
From the 210 East in La Cañada, drive 33 miles on Angeles Crest Highway (CA-2). After Cloudburst Summit, continue 0.25 miles east of the Mt. Waterman ski lift. Park at a gated dirt road on the left (north) side of the highway.
Directions to Summit
Trailhead: Go past the gate and follow the dirt road to a shallow saddle.
0.4 miles: Turn right at a faint trail.
0.75 miles: You have reached Mt. Akawie. Turn around and head back.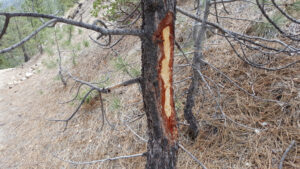 Trek Highlights
The trail follows a gentle incline up the side of Mt. Akawie until a saddle. Look for a parallel series of stones pointing to a faint trail to the right. (It is very important that you follow this trail, and not the dirt path winding around and behind Mt. Akawie. The wrong path never climbs high enough to reach the peak and would require strenuous scrambling. The winding dirt path leads to nowhere and can get you lost on some steep sections of the mountain.)
The plateau of Mt. Akawie is a wide expansive flat area with a bump at the end of it.
Red Tape
Display your adventure pass.
Factoids
This peak was formerly known as Buckhorn Peak. In 1990, the Sierra Club Hundred Peaks Section (HPS) voted to refer to it by its current name as a tribute to Dick Akawie. Dick was a popular HPS leader, a six time HPS list finisher, and editor of the Angeles Chapter Schedule for 23 years.
Photos