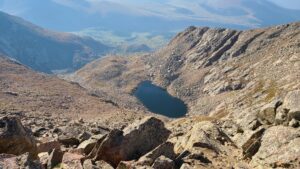 Objective: Summit Mount Bierstadt, Rocky Mountains, Colorado
Distance: 7.5 miles (out and back)
Peak Elevation: 14,060′
Elevation Gain: 2,850′
Difficulty: Strenuous
Caution: Altitude sickness, lightning
Mount Bierstadt is a fourteener that is located in the Front Range of the Rocky Mountains, near Georgetown. The Bierstadt Trail rises up the West Slopes with a Class 2 boulder scramble just below the peak. Its accessibility to all vehicles and location near Denver and Breckenridge makes it a popular hike. Albert Bierstadt was a painter known for luminous landscapes of the American West.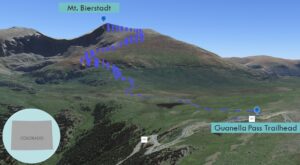 Directions to Trailhead
From Denver, follow the I-70 W to Fifteenth Street in Georgetown. Take exit 228 to Georgetown. Turn left onto Fifteenth Street. At the traffic circle, take the first exit onto Argentine Street and drive 0.5 miles. Continue onto Brownell Street for 0.1 miles. Turn left onto Sixth Street. Make a right at Rose Street and drive 0.2 miles. Turn left onto Guanella Pass Road/Second Street. Drive 10.4 miles to the top of Guanella Pass. Park in one of the two large, paved parking areas on either side of the road. The Guanella Pass trailhead starts near the parking area on the east side of the road. The parking area by the trailhead has toilets.
Directions to Summit
Trailhead: From Guanella Pass, begin hiking on the Bierstadt Trail.
0.8 miles: Cross Scott Gomer Creek.
3.45 miles: Reach the ridgeline at around 13,800'.
3.75 miles: You have reached Mount Bierstadt. Turn around and head back.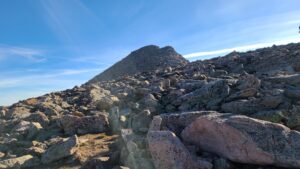 Trek Highlights
From the start, the summit is visible along a trail that climbs straight up the Bierstadt's west slopes. The wide well-groomed trail heads into low willows. Wooden boardwalks allow you to avoid bushwhacking through the dense willow patch. The Bierstadt trail descends 0.8 miles to a stream, easily forded late in the season, but tricky early on.
After half a mile, the trail climbs steeply and steadily to the summit up some mild switchbacks. As you approach the ridgeline, the sun makes an appearance and shines a bit in your eyes.
Once you have gained the ridge, the last 0.3 miles require some light boulder hopping. This is the only Class 2 portion of the hike. Simply follow the nicely spaced cairns to the summit. Keep to the left edge of the ridgeline. The peak is a narrow stack of boulders with plenty of good spots to sit. From this summit view, you can see other mountains in every direction. Mt. Evans is to the northeast along the jagged Sawtooth.
Photos