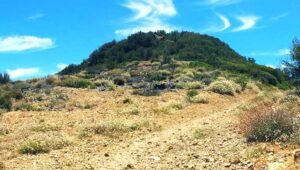 Objective: Summit Modjeska Peak, San Gabriel Mountains, California
Distance: 13.8 miles (out and back)
Peak Elevation: 5,496′
Elevation Gain: 2,505′
Difficulty: Strenuous
Modjeska Peak and Santiago Peak are connected by a long saddle, Saddleback, the highest point in the Santa Ana Mountains. Santiago Peak is the high point in Orange County. Old Saddleback is a landmark in eastern Orange County that can be seen as far away as north of LA. Maple Springs Road is not as scenic as Holy Jim Trail and it is a longer route. But, you do not need a high clearance vehicle to get to the trailhead. This route is great for climbing both Modjeska Peak and Santiago Peak.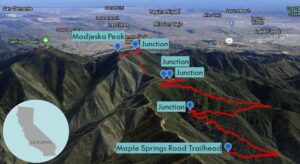 Directions to Trailhead
Drive south on the 5. At Irvine, take exit 100 for Jamboree Road. Turn left on Jamboree and head northeast. Continue 5.9 miles on Jamboree. Turn right on East Santiago Canyon Road and drive for 6.5 miles. Turn left on Silverado Canyon Road and follow the road east for about 5.5 miles until you reach the Maple Springs Visitor Center. When the gate is open, drive 3 miles to the end of the paved road. Park in one of the few spots at the end of the road.
Directions to Summit
Trailhead: Head northwest up Maple Springs Road. The road heads south before turning northwest again.
2.5 miles: After a big bend, the road heads south and up a couple switchbacks leading to a three-road junction.
4.35 miles: At the three-road junction, bypass the Harding Truck Trail on the right, turn right at the gate and head south on Main Divide Road.
5.75 miles: Make another 180-degree left turn.
5.91 miles: On the Saddleback, turn left and head east up the service road as it switchbacks a couple of times.
6.90 miles: You have reached Modjeska Peak. Turn around and head back.

Trek Highlights
Ribbit, ribbit, ribbit, ribbit … ribbit, ribbit, ribbit. Fun fact: Because the Baja California Treefrog is found near Hollywood, the classic "ribbit, ribbit" sound was popularized by Hollywood films even though no other species makes that sound. You may hear one in the creek near the start. Maple Springs Road has a few hairpin turns until it reaches the three-way junction with the Harding Truck Trail and the Main Divide Road. This is a great rest stop with views in every direction and guardrails where you can sit. From this point, it is a rocky road to the top. The roads of Saddleback are covered with a swirling dust and exhaust plume from all the trucks and dirt bikes.
The final path up Modjeska begins after a buzzing tower, which is after one last, big U-turn. At the summit, you can see the green foothills of Saddleback Valley below. From Modjeska, you have true 360-degree views, unlike the radio tower obstructions of Santiago. You can see the San Gabriels to the north, Orange County to the southwest, the ocean on a clear day, and Modjeska's twin to the southeast, Santiago.
Red Tape
Display your adventure pass.
Factoids
Helena Modjeska was a celebrated 19th century Shakespearean actress from Poland, who lived with her husband Count Bozenta in Silverado Canyon. She was so popular candies were named after her.
Photos