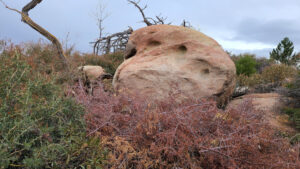 Objective: Summit Mill Peak, San Bernardino Mountains, California
Distance: 3.2 miles (out and back)
Peak Elevation: 6,670'
Elevation Gain: 880'
Difficulty: Easy
The Exploration Trail is comforting. There are plenty of trees and shade. From the top of Mill Peak, there are great views of San Gorgonio and the Inland Empire.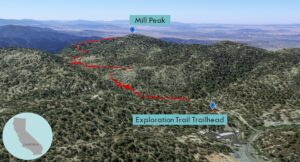 Directions to Trailhead
From the 210 East in San Bernardino, take exit 81 for CA-330 N toward Big Bear. Drive 15.2 miles to Running Springs. Continue on CA-18 for 1 mile. Turn right on Keller Peak Road and continue for 0.1 miles. There are parking spaces on the right. The trailhead has a big sign for the Exploration Trail.
Directions to Summit
Trailhead: Begin hiking on Exploration Trail.
0.9 miles: At the 4-way junction, turn right and head south.
1.5 miles: At the junction, keep going straight.
1.6 miles: You have reached Mill Peak. Turn around and head back.
Trek Highlights
Make sure you start at the trailhead for Exploration Trail (2W09X), which has a large sign for the Children's Forest. Exploration Trail is extremely shady with easy terrain. Be prepared to step aside as there are lots of mountain bikers flying down the single track.
A few switchbacks weave around a cliffside full of boulders. In the gulch above the rocks, oak trees have shed their acorns on a carpet of light brown oak leaves.
Mill Peak's slope contains various types of pine trees, including the ginormous spiky cones of the Coulter pine. At the summit ridge, a path cuts through some dense brush. It is not clear where the summit is since you are in the middle of a curling hedge maze. The peak is probably on one of the boulder stacks.
Red Tape
Display your adventure pass.
Photos