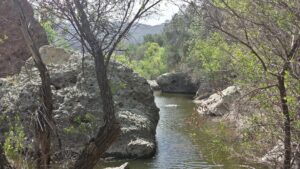 Objective: Hike to Malibu Creek State Park, Santa Monica Mountains, California
Distance: 7 miles (out and back)
Elevation Gain: 380′
Difficulty: Moderate
Malibu Canyon takes you on a tour of Malibu Creek State Park's highlights: Malibu Creek, Goat Buttes, and Malibu Lake. This was once a M*A*S*H film location.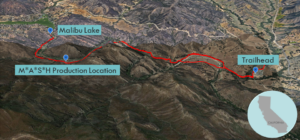 Directions to Trailhead
From Malibu, head north on CA-1 (PCH). Turn right on Malibu Canyon Road and drive 4.6 miles. Continue another 1.5 miles on Las Virgenes Road. Turn left on Park Entrance Road (just before Mulholland). Park in the lot by the trailhead.
Trail
Trailhead: Start hiking on Park Entrance Road.
0.3 miles: Turn right onto Waycross Drive.
0.6 miles: Turn right onto High Road.
1.0 mile: At the junction, keep left.
1.27 miles: At the junction, keep right.
1.35 miles: At the junction, keep left.
2.9 miles: At the junction, keep right to stay on Crags Road.
3.5 miles: You have reached Malibu Lake. Turn around and head back.

Trek Highlights
This flat hike crisscrosses the lush scenery of Malibu Creek, the M*A*S*H site, and ends at the Malibu Lake Dam. Many TV shows and films have been filmed here, including M*A*S*H, Planet of the Apes, Shangri-La, and Butch Cassidy and the Sundance Kid.
Take the High Road, a dappled path surrounded by oaks. Then it crosses the creek bed a few times. Admire the unusual rock formations of the Goat Buttes until you reach the M*A*S*H TV set. Hike next to Malibu Creek until the dam at the end of Malibu Lake and turn around.
Red Tape
The Malibu Creek State Park entrance fee is $12. There have been reports of car break-ins just outside the entrance.
Photos