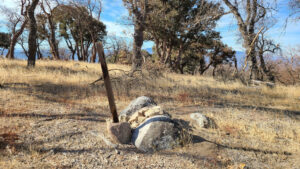 Objective: Summit Liebre Mountain, Sierra Pelona Mountains, California
Distance: 7.4 miles (out and back)
Peak Elevation: 5,760'
Elevation Gain: 1,860'
Difficulty: Moderate
Liebre Mountain is in the northwestern corner of the Sierra Pelona Mountains. The Sierra Pelonas are northwest of the San Gabriels and west of the San Andreas Fault. From Liebre, you can see the western edge of the Antelope Valley.
Directions to Trailhead
Just before Gorman, from the 5 N, take exit 198A for CA-138. Drive on CA-138 E for 4 miles. Turn right onto Old Ridge Route/Ridge Route Road and drive for 2.2 miles. Turn left onto Pine Canyon Road and drive 4.2 miles. Park on a dirt turnout on the northern side of the road. The trailhead is on the southern side of the road.
Directions to Summit
Trailhead: Follow the connecting path to the Pacific Crest Trail.
0.07 miles: Begin hiking on the Pacific Crest Trail.
3.6 miles: You have reached Liebre Mountain. Turn around and head back.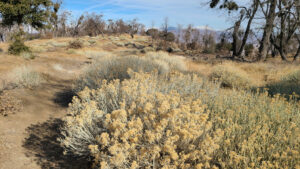 Trek Highlights
The hike begins on an unmarked trail by the roadside that quickly connects to the Pacific Crest Trail (PCT) trailhead. There are some switchbacks at the start through an oak and pine forest. From this section, you can see some Antelope Valley ranches. The trail straightens up and keeps ascending the wide northern slope.
When you reach the summit ridge, you will see a dozen closely huddled trees. Walk by the trees, turn right, and then head to the nearest bump. At the top, there is a summit post. The views are better on the trail because of how vast the summit plateau is.
Red Tape
Display your adventure pass.
Photos