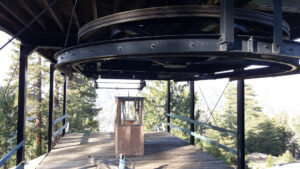 Objective: Summit Kratka Ridge, San Gabriel Mountains, California
Distance: 1.5 miles (out and back)
Peak Elevation: 7,515′
Elevation Gain: 700′
Difficulty: Easy
Explore an abandoned ski lift at the top of Kratka Ridge.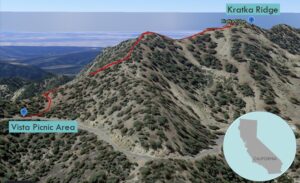 Directions to Trailhead
From the 210 East in La Cañada, drive 36.5 miles on Angeles Crest Highway (CA-2). Park at the Vista Picnic Area, on the right side, a few miles past Buckhorn Campground.
Directions to Summit
Trailhead: From the parking area, the trail passes a bulletin board, trash can, and outhouse.
100': Turn left and climb some steps.
200 yards: At the ridge, turn right (west) and head up an old logging road along the north side of the ridge.
0.25 miles: At the shallow saddle (with a rocky prominence on the right), turn left and climb up the steep use trail up the slope.
0.5 miles: At the second shallow saddle, turn right. You will pass a ski lift near the top of this slope.
0.7 miles: After the ski lift, turn left for the last push.
0.75 miles: You have reached Kratka Ridge. There is a wilderness boundary post. Turn around and head back.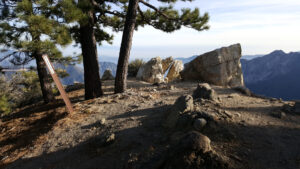 Trek Highlights
If you need a remote spot high above it all to ruminate, without putting in a lot of exertion, then this is the place for you. The old abandoned ski lift on the top of Kratka Ridge is ripe for exploration. You can examine the cable and the big cogs pulling the chairs up. You can stand on the edge and imagine skiing down one of the shortest bunny slopes ever built. The weathered single-seat chairs are still suspended in the sky and basking in the light of their former glory days.
Red Tape
Display your adventure pass.
Factoids
The Kratka Ridge resort changed its name to Snowcrest, then back to its original name, Kratka Ridge. Kratka referred to the skiing and snowboarding terrain from the base to the summit, while Snowcrest referred to the tubing area at the base.
Photos