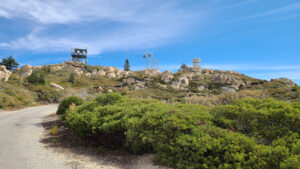 Objective: Summit Keller Peak, San Bernardino Mountains, California
Distance: 12.5 miles (out and back)
Peak Elevation: 7,882′
Elevation Gain: 2,309'
Difficulty: Moderate
Keller Peak is between Lake Arrowhead and Big Bear Lake in the northern San Bernardino Mountains. The best time to visit the summit lookout tower is in autumn. The temperature is perfect and the leaves start turning to gold.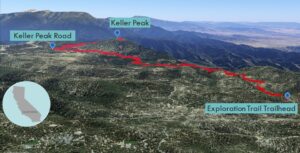 Directions to Trailhead
From the 210 East in San Bernardino, take exit 81 for CA-330 N toward Big Bear. Drive 15.2 miles to Running Springs. Continue on CA-18 for 1 mile. Turn right on Keller Peak Road and continue for 0.1 miles. There are parking spaces on the right. The trailhead has a big sign for the Exploration Trail.
Directions to Summit
Trailhead: Begin hiking on Exploration Trail.
4.4 miles: At the junction, make a sharp right onto Keller Peak Road.
6.25 miles: You have reached the summit. Turn around and head back.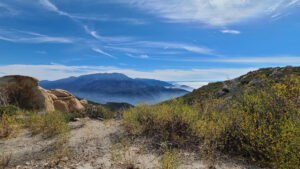 Trek Highlights
Make sure you start at the trailhead for Exploration Trail (2W09X), which has a large sign for the Children's Forest. If you start at the gate, you will follow the road to the top instead.
Exploration Trail is extremely shady with easy terrain and giant pinecones. Be prepared to step aside as there are lots of mountain bikers flying down the single track. From time to time, you can hear the thud of an acorn landing on the forest floor. There are also gray squirrels and little lizards darting across the path.
The last couple miles follow Keller Peak Road, which spirals to the top. On one of the giant boulders, there is a plaque memorializing a crash in 1941 of a military plane (B-26) along the slope.
There is a fire lookout tower on the summit. From the top, you can see Lake Arrowhead, San Gorgonio Mountain, and the ocean.
Red Tape
Display your adventure pass.
Photos